Choosing your dream White Shoes For Wedding isn't difficult if you're looking in the right place,plus in this day and age anything goes! Brides in 2023 have a huge choice of wedding shoes to pick, from high stiletto heels to flat pumps, a bride can look just as stunning in a pair of bridal flats as she would a pair of sky high bridal heels. If you're a bride to be, you've come to the right place, continue reading to discover the five shoes you'll want to add to your shortlist and why.
Click here to see the table of contents
Flower Detail Stilettos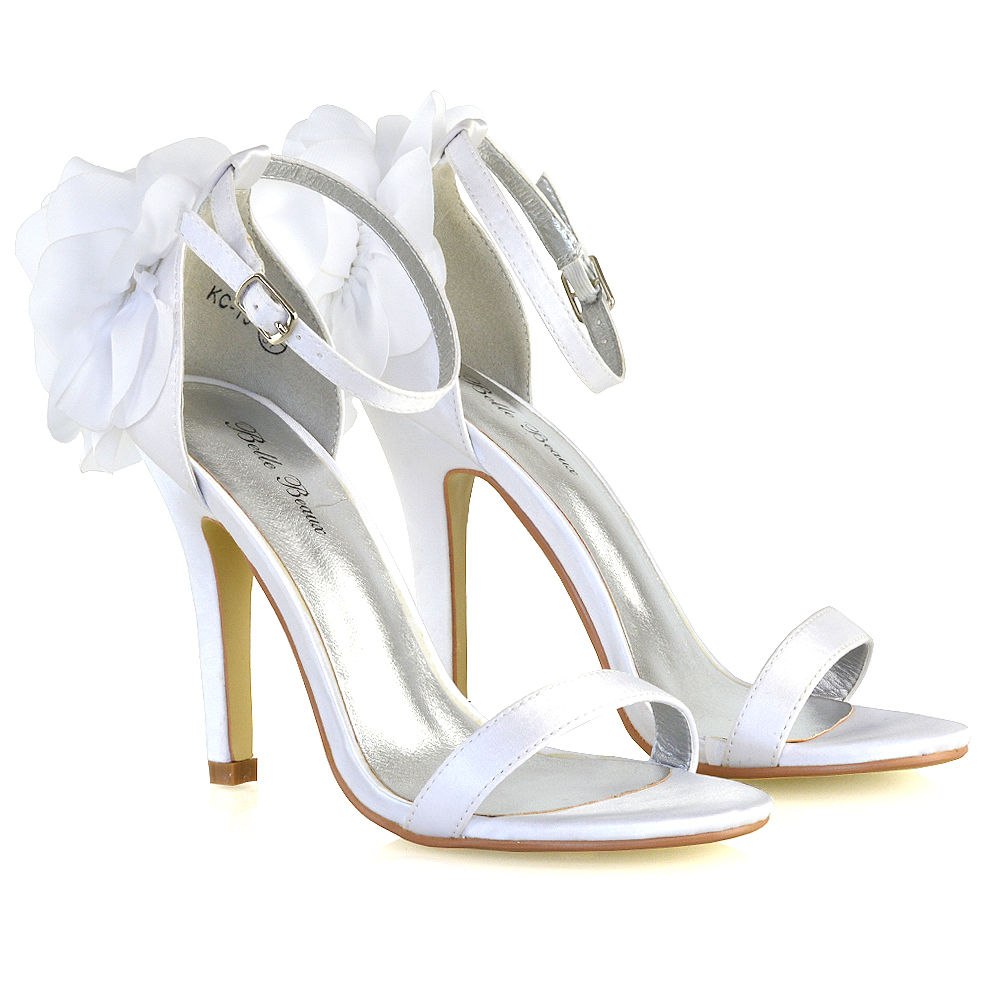 XY London Zola Flower Detail Open Toe Buckle Strappy Bridal High Stiletto Heels in White
Brides of 2023 if you want to incorporate the latest trend and still look wedding fabulous, heels with a flower corsage detail are the perfect choice, you need to visit XY London. High stiletto heels with a flower corsage have that classic bridal feel, it's a shoe that you cannot go wrong with if you are looking for something super elegant. Keeping in line with the modern take on a classic wedding style, if you dare these flower bridal shoes will look phenomenal with a short wedding dress. A knee length wedding dress with an A line V neck will be a dream pairing, this look is so wearable too as it won't have you feeling uncomfortable and needing assistance with the loo!
Diamante Wedding White Shoes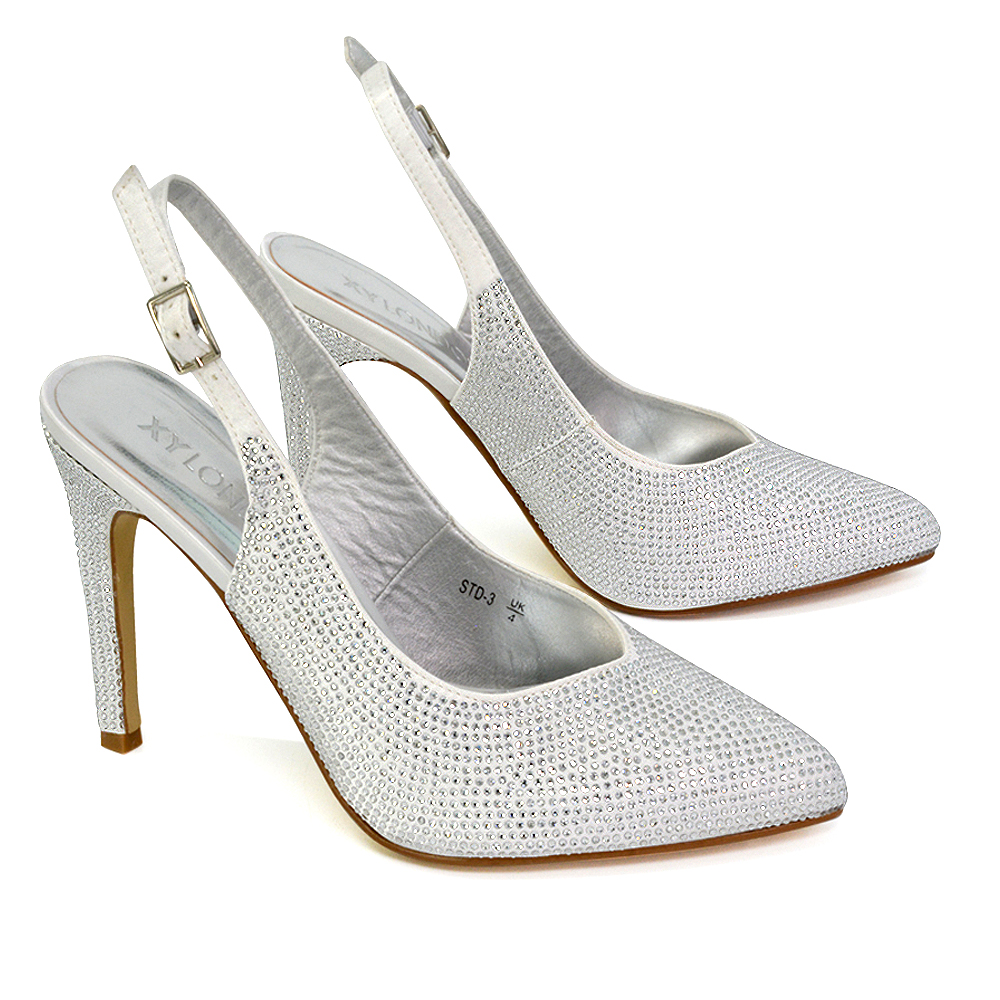 Divine Diamante Pointed Toe Slingback Bridal High Heel Stilettos in White
Calling all glamorous brides to be, this is one you'll want to immediately add to your basket let alone your shortlist. Wedding White Shoes covered in diamantes not only bring an element of glamour, but the closed toe court shoe style is also a classic so you'll still achieve a sophisticated look in sparkles.A high stiletto heel has the ability to match the way you feel to how you look, so you'll not only look amazing but you'll feel it too. Sling back shoes are a great all year round bridal shoe style, they're not too hot in the summer nor too cold in winter. Style these diamante bridal heels with a princess style wedding dress to achieve a winning look.
Flat White Shoes For Wedding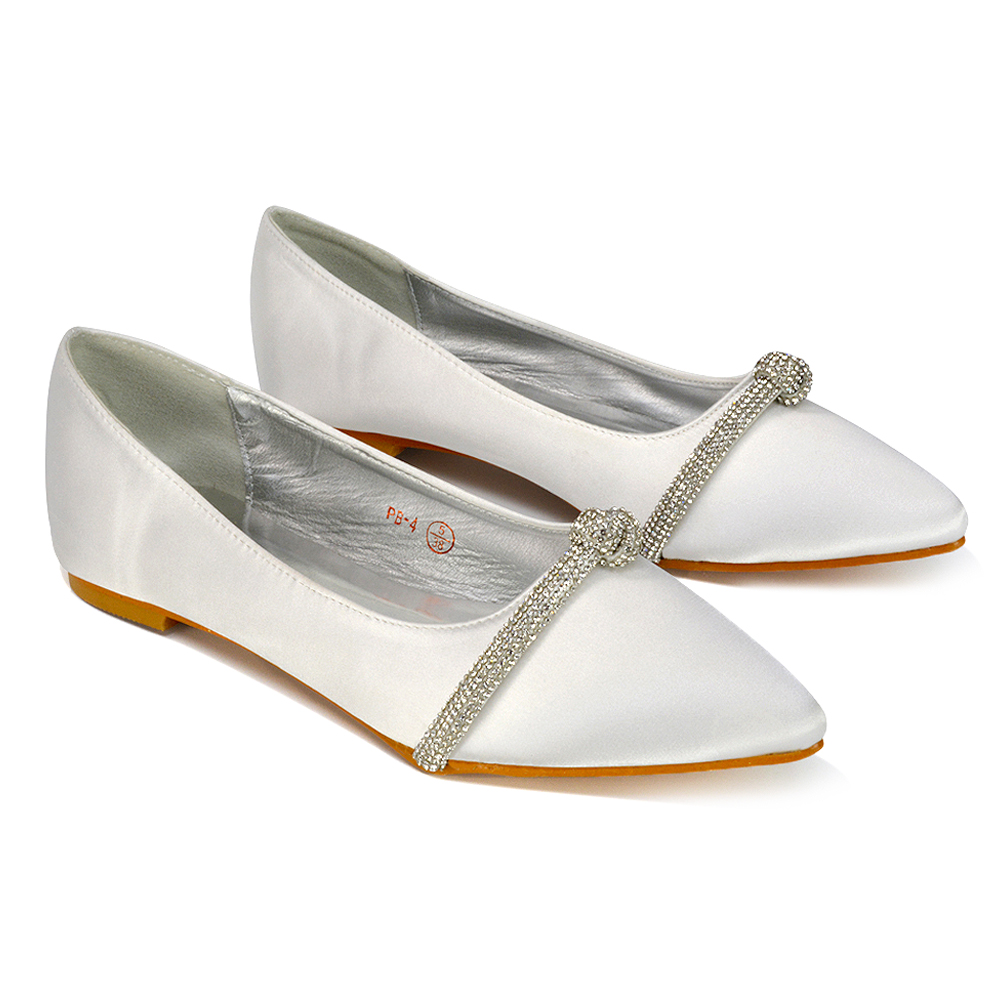 Halley Flat Heel Pointed Toe Sparkly Embellished Diamante Bridal Wedding White Shoes
With careful selection, flat White Shoes For Wedding can create the perfect bridal look. If you are going down the flat wedding shoes route, a soft pointed closed toe is an ideal choice as their shape is extremely elegant and stylish.These white wedding pumps are proof that flats can be just as feminine as a pair of heels without the discomfort which heels potentially can inflict, these flats can be worn right through the day into the night with no need to change shoes.Style with a trumpet style wedding dress, the flare to this dress begins above the knee so a sensible choice for both comfort and style. These white bridal flats teamed with a trumpet dress will create the ultimate sophisticated wedding look that will have your guests' jaws drop to the floor!
Mid-Block Heels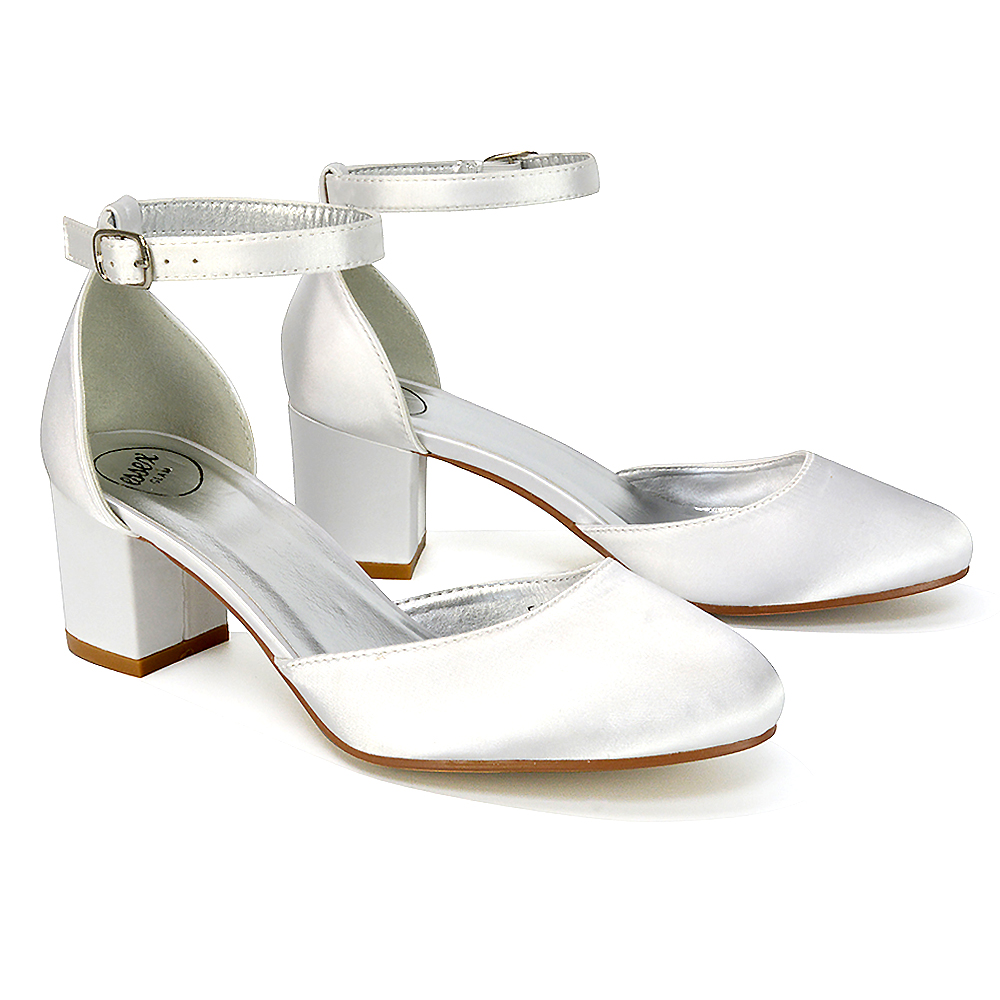 Billie May Chunky Strappy Mid Block Heel-court-shoes-bridal-shoes-for-wedding-in-white-satin
It's easy to see why mid-block heel court shoes are one of the most popular White Shoes For Weddings. They're not only extremely elegant but they're also very wearable for a long day on your feet. A mid block heel gives good stability,and the mid height ensures maximum comfort. As for style these court heels have a classic round toe and thin ankle strap which creates a dainty appearance, style with column style wedding dress for a minimal simplistic vibe. It's important to remember that no matter what shoe style you go for, whether it's a high stiletto heel or ballet pumps, wearing your shoes in around the house to avoid any potential rubbing is a must.
Flared Heel Mules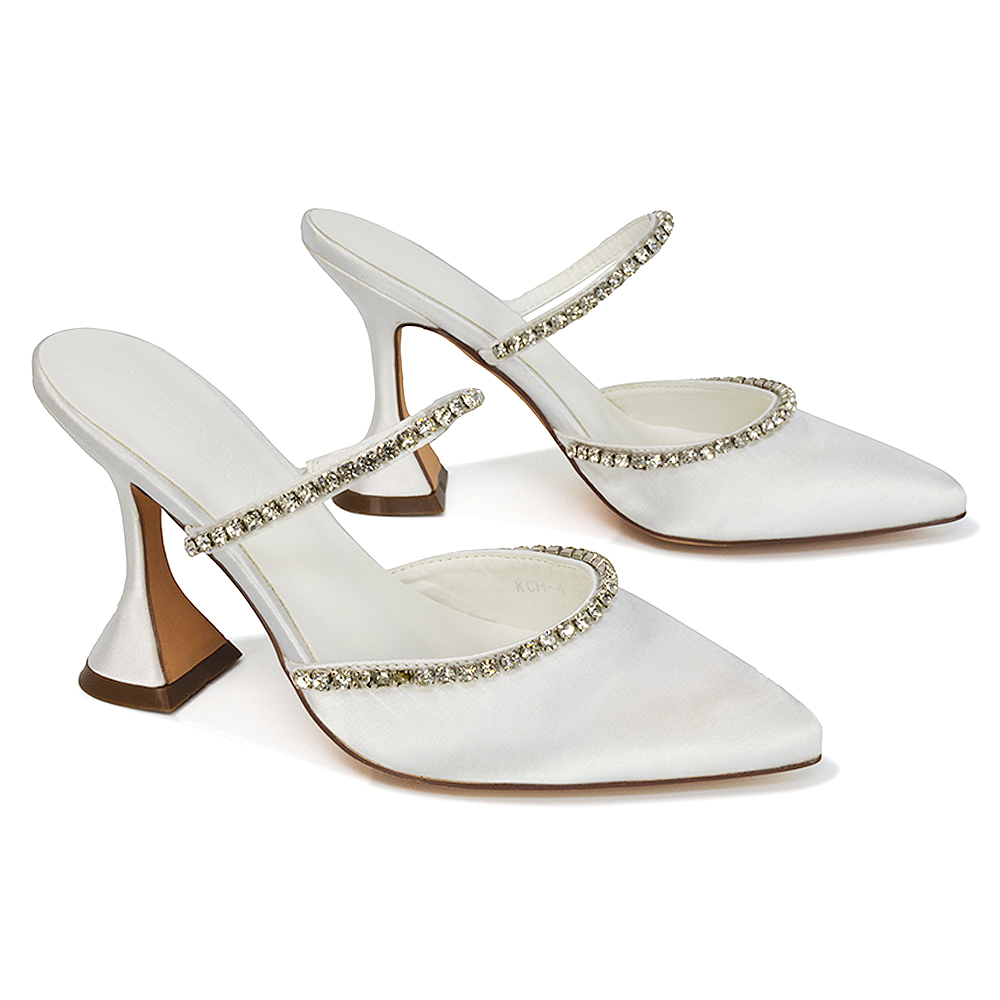 Deena Pointed Toe Diamante Flared High Heel CourtWhite Shoes For Wedding
If you like to stand out from the crowd, classic meets edgy flared heel mules are destined to put a smile on your face. These Wedding White Shoes have a mid high flared heel, a trend that has been both huge on the runway and amongst all the biggest fashion influencers for 2020.The flared heel is not only stylish, but also it's not too high and offers good stability meaning they're a good choice for a long day on your feet.Another trend for Summer 2020 you see right here is the unusual straps,the dainty straps and front of the shoes have a line of delicate diamantes giving tons of wow factor.Style these bridal diamante mules with a strapless wedding dress to create a timeless classic look that never fails to wow.
Flat Diamante Sandals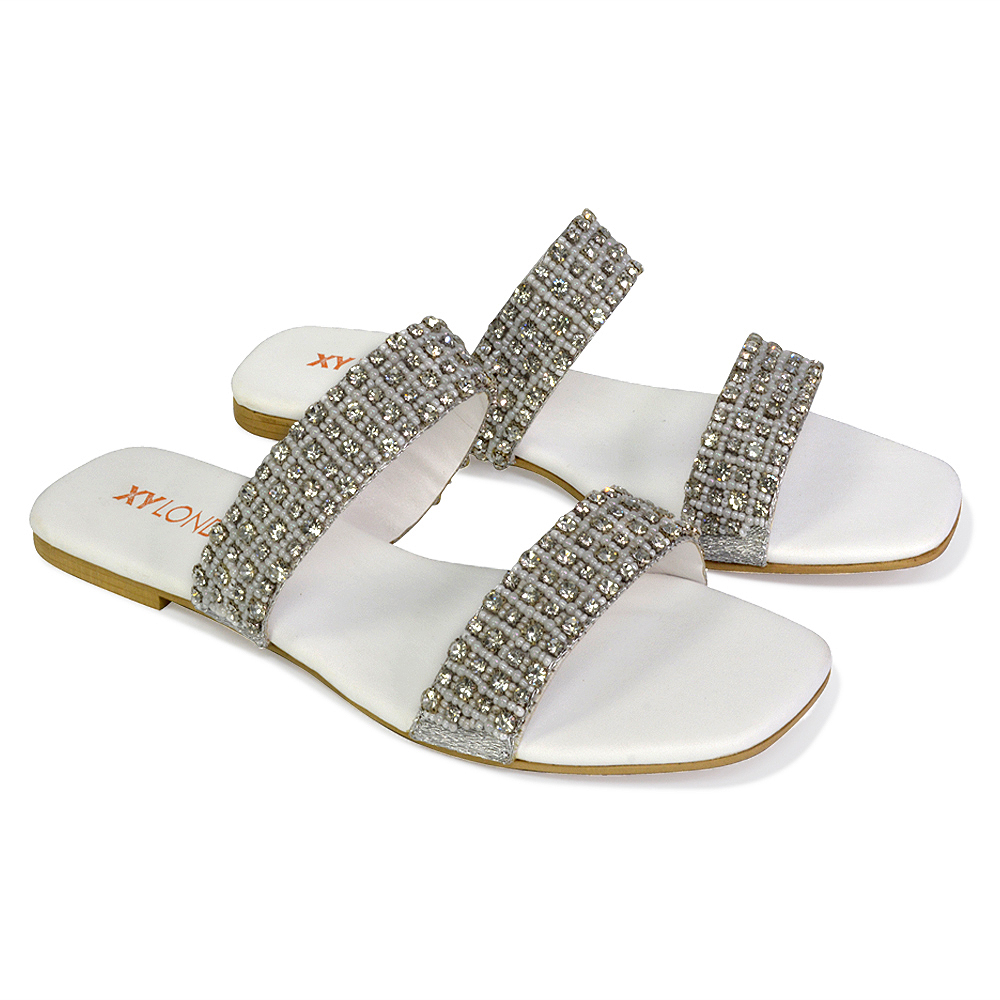 Justina Square ToeDouble Strappy Flat Diamante Sandalsin Silver
Tying the knot abroad? If so these diamante white wedding sandals will be the perfect shoe no matter your wedding dress style. You cannot get any more comfortable than a low flat heel, and with these flat bridal sandals elegance is certainly not sacrificed. The two thick double straps are covered in tiny square high shine diamantes, creating a glamorous yet elegant look. The toe shape is square which gives the sandals a modern and edgy feel conforming with top trends for summer 2023, ideal if you are a fashion conscious bride. When choosing open toe sandals with diamantes it's important to get that oh so important pedi to complete your wedding look, go for a simplistic pale paint with no diamantes as too much is overkill. To create a boho inspired bridal look, style these white wedding sandals with an elegant silky maxi wedding dress with ruffled sleeves.
Strappy Stiletto Heels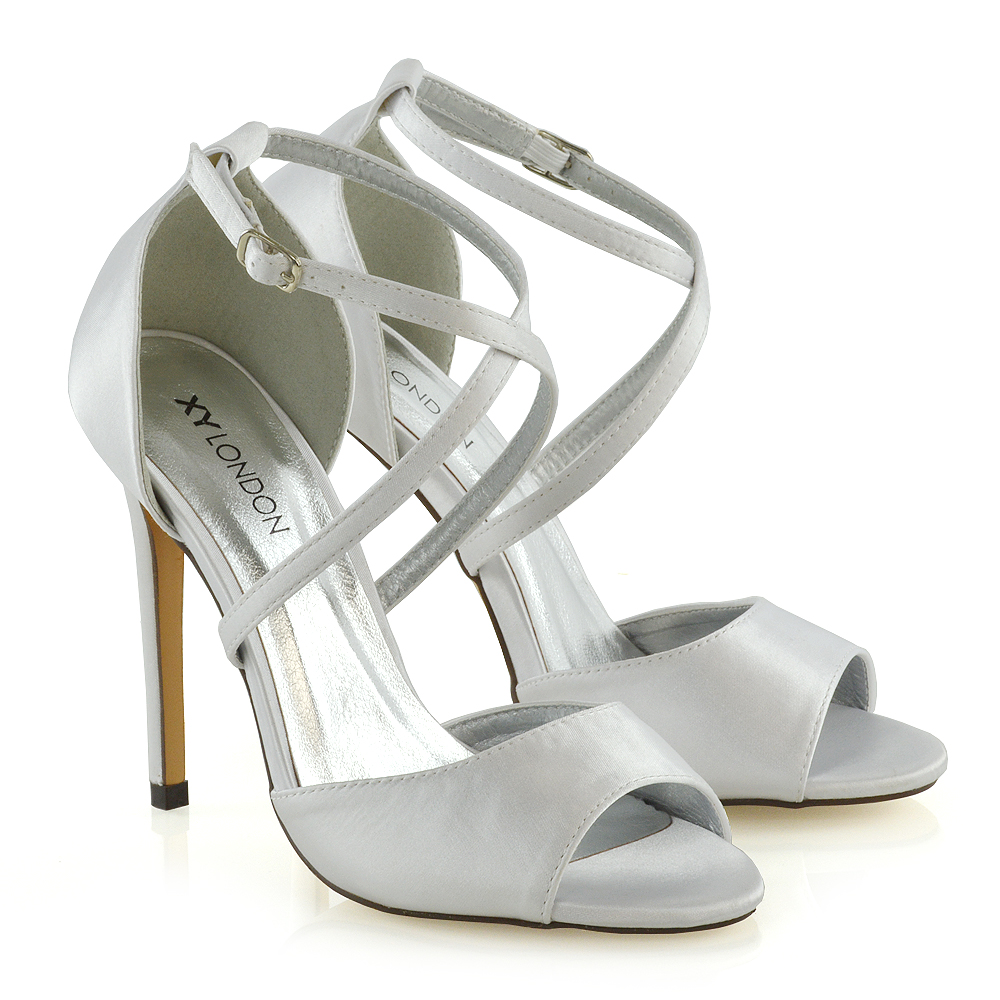 Gwen Cross Over Strappy Peep Toe Stiletto High Heel Bridal Shoes in White Satin
A bride cannot go wrong with a pair of stunning strappy bridal stilettos, they are the ultimate wedding shoe for summer 2023. A huge variety of strappy shoe styles have been trending on the runway, so if you are a serious fashionista this one's for you. The ultra elegant look is created with a feminine sky high stiletto heel, dainty thin straps that cross over at the front, with a delicate buckle to complete the look. A pedicure with diamantes would complement these simplistic white bridal heels, finishing them off with a touch of glamour. Match the elegance of these jaw droppingly beautiful white heels, with a white lace sweetheart neck fish tail wedding dress.