Your wedding day should be filled with elegance and class, as you and your partner promise yourselves to each other forever. Therefore, you want all of your bridal party to look their best – so that you can enjoy photos of your special day for years to come. No matter if you have one bridesmaid, or ten – Cetims have a number of elegant bridesmaid dress styles that will look stunning beside you.
One of the benefits of Cetims bridesmaid dresses and prom dresses is that they come in a vast number of different colours so that they can match your wedding or event theme perfectly. Take a look at some of our favourite bridesmaid dresses below for some inspiration:
The Cetims Lily Dress
Retail Price: $139.99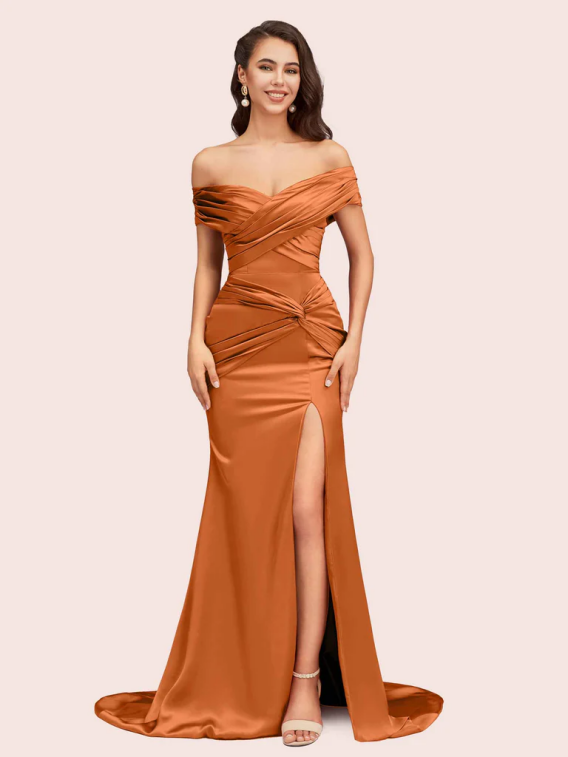 Of all the long burnt orange satin bridesmaid dresses of Cetims, the Lily dress just might be our favourite. This vibrant and spicy shade has been a hot favourite in the 2023 bridal season, and this is set to continue in 2023 and beyond. The hourglass silhouette of this dress is truly timeless and elegant while the thigh-high leg split adds a glamorous aspect to the dress without looking too much.
The dress itself is made from a beautiful satin material which is ruched over the stomach and around the hips, making it a flattering design for many shapes and sizes. The one-shoulder design is unique in the way that the material flows down the bodice to meet the waist, while the zip up the back of the dress is subtle, but makes it easier to take the dress on and off.
The star of the show on this dress is the neckline so avoid pairing it with a necklace as this could be distracting. Instead, consider pairing it with an elegant pair of earrings for an added sparkle. This rich burnt orange shade is perfect for autumn/winter weddings due to its warm and comforting tone.
The Cetims Carla Dress
Retail Price $139.99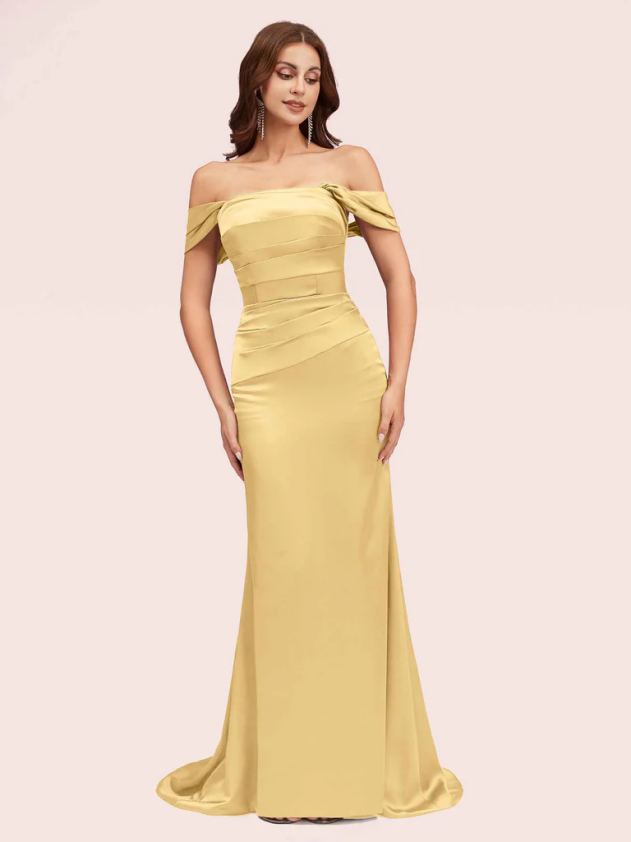 Why not consider an in-fashion gold colour dress to make your bridesmaids feel like a million dollars? A unique design that looks stunning in gold is the Carla dress. This dress is sure to make a statement, while still looking elegant and classy on your special day. Made from high-quality, fully lined smooth satin this dress has a beautiful sheen when the light hits it and will look stunning in wedding pictures.
The high leg split looks glamorous and makes it easier for your bridesmaid to move in this fitted dress design. The design will fit perfectly against the curves of your bridesmaid, making them feel confident and supported. But the real show-stopping feature of this design is the tw-strap, one-shoulder design, attached to the classic sweetheart neckline. The pale gold shade is set to be popular for years to come and is a classic shade that never truly goes out of style. On top of this, the shade pairs well with the vast majority of suit shades such as grey, navy or black meaning that you have more options for your groomsmen too.
The Cetims Nicole Dress
Retail Price $139.99
Another popular shade for bridesmaid dresses in recent years has been a warm and welcoming terracotta which combines orange and brown tones creating the perfect hue. One dress that we think looks spectacular in this shade is Nicole dress. If you are looking for a dress with two, slightly thicker straps then this may be the one for you.
This elegant design will truly stand the test of time, with a timeless sweetheart neckline and beautiful but delicate ruching across the hips. The thick satin material looks extremely high-quality, giving the dress a structured appearance. This dress looks brilliant with a small necklace to accentuate the bust, while still looking classy. This terracotta shades dress pairs well with natural shades such as stone, cream, beige and brown and looks amazing as part of a rustic wedding.
The Cetims Elaine Dress
Retail Price $139.99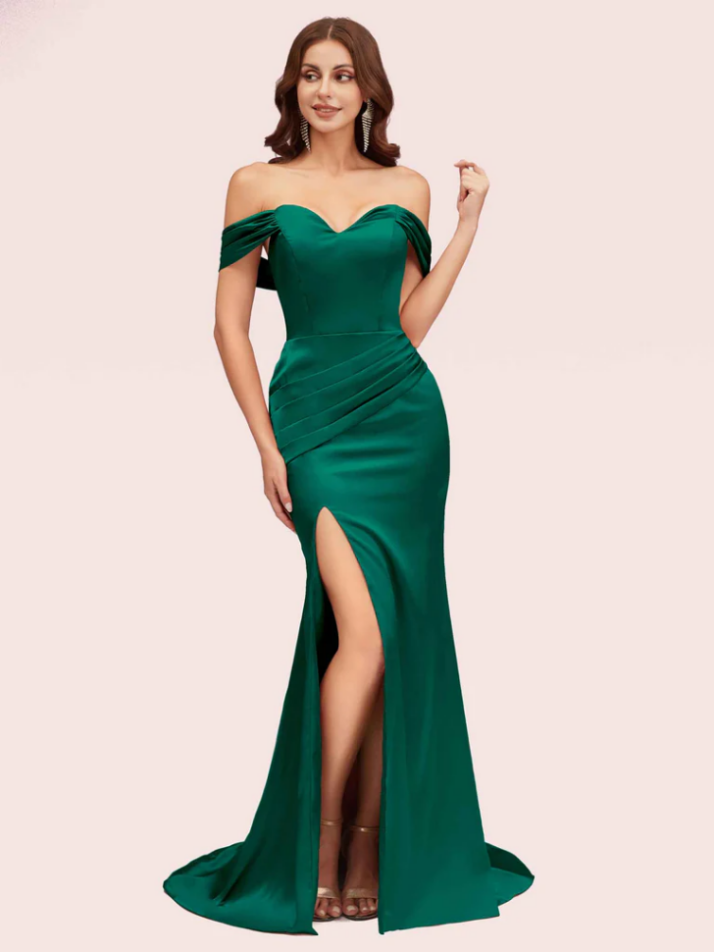 Emerald green is a rich shade that looks stunning during every season – whether it is matching the greenery and nature of spring and summer, or gives festive vibes during the winter, the colour is a popular choice for brides around the world.
As the shade emerald green is a darker tone, it is known to be more slimming than other shades and therefore flattering on all shapes and sizes. One Cetims dress that we love in the emerald green shade is the Elaine dress. This statement, structured, off the shoulder design, is a firm favourite on the site and often a top-seller.
The bodice has a flattering sweetheart neckline that accentuates the bust, while the fitted silhouette helps pull you in around the waist. The off the shoulder style is elegant yet makes a real statement while the leg split adds a sexy element to the design. The zip up the back of the design ensures that it fits like a glove and stays secure throughout the whole day and night. Our favourite shade combination with emerald green is a rich gold shade or classic ivory.
Emerald green dresses are often paired with bouquets packed with lots of creams, light greens or whites and plenty of leaves and greenery. A delicate gold necklace will pair well with this dress, drawing attention to the off the shoulder detail and your bridesmaids' beautiful decolletage.
The Takeaway
Elegant dresses allow your bridesmaids to show off their beauty, while still looking classy on your special day. Every Cetims dress that we have listed above comes in over 60 different colour choices – meaning that you are not restricted when it comes to selecting the best design and colour for you. On the webpage, there are a number of different filter options where you can filter dress options by neckline, silhouette or material to help find your perfect dress. Browse the hundreds of dress options today to find the dresses that you dreamed of for your wedding.