Planning a destination wedding can be an exciting and daunting task, especially when it involves a region as diverse and picturesque as the Pacific Northwest. With its stunning landscapes, unique culture, and abundance of activities, the Pacific Northwest offers a range of options for couples looking to tie the knot in 2023. In this article, we'll provide you with some travel tips and tricks to help you plan a memorable Pacific Northwest wedding.
Click here to see the table of contents
Choose the Right Location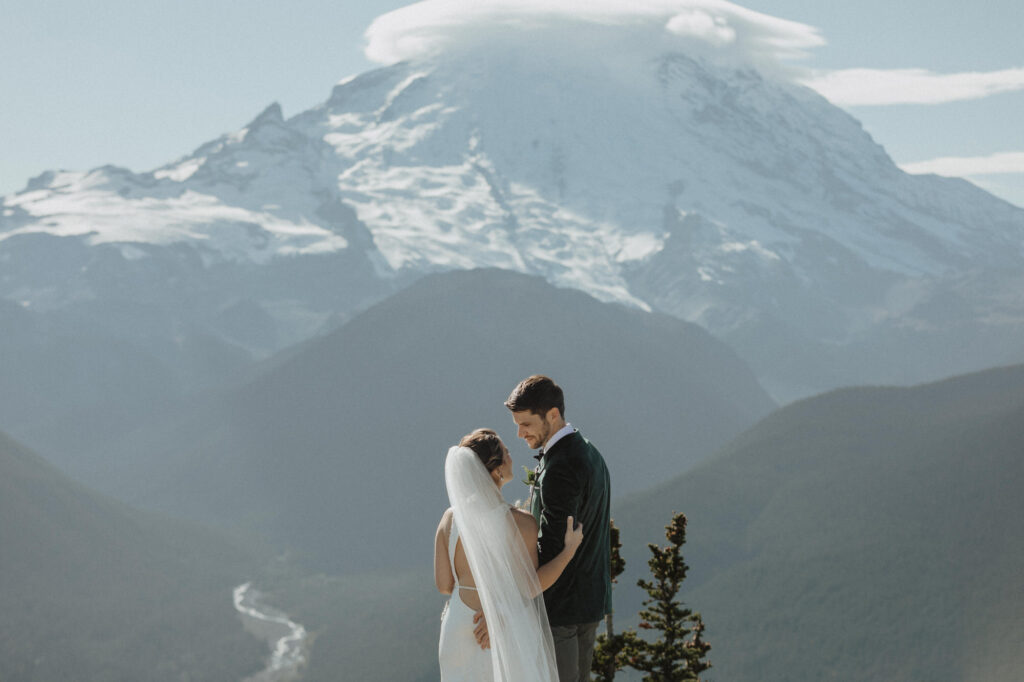 The first step in Pacific Northwest wedding planning is to choose the right location. With its diverse terrain, the Pacific Northwest offers a range of venues and settings, from rustic barns and vineyards to beaches and mountains. Consider the style of wedding you want, the number of guests, and the season you prepare to get married when choosing a location.
The Importance of Location in Setting the Tone and Atmosphere for the Wedding
The location of a wedding plays a crucial role in creating the desired tone and atmosphere for the event. The venue and surrounding area can convey a sense of romance, sophistication, intimacy, or grandeur. It can also reflect the couple's personality, interests, or cultural background. The right location can help to bring the marriage vision to life and create a memorable experience for the couple and their guests. A beautiful natural setting, an iconic landmark, or a unique cultural venue can all provide a backdrop for a one-of-a-kind wedding celebration. The location sets the tone and creates the ambiance that the couple desires, making it a vital consideration in the planning process.
Consider the Weather
The weather can be unpredictable in the Pacific Northwest, so it's essential to plan accordingly. If you're getting married in the summer, expect warm temperatures and sunny days, but also be prepared for occasional rain showers. If you're getting married in the fall or winter, be prepared for cooler temperatures and potential snowfall.
Preparing for Warm Temperatures, Sunny Days, and Rain Showers in the Summer
Preparing for the varied weather conditions in the Pacific Northwest during the summer is essential for preparing for a successful outdoor wedding. Warm temperatures and sunny days are common in the region during the summer months, making it an ideal time for outdoor weddings. However, rain showers are also common, so it's crucial to prepare for this possibility. Couples can choose venues with indoor or covered outdoor spaces, such as tents or pavilions, to ensure that guests remain comfortable and dry in case of rain. Providing umbrellas and blankets can also help guests to stay warm and dry during unexpected showers. Planning for different weather conditions can ensure that the nuptials is a success, no matter what nature throws at them.
Preparing for Cooler Temperatures and Potential Snowfall in the Fall and Winter
Preparing for cooler temperatures and potential snowfall is crucial when scheduling a wedding in the Pacific Northwest during the fall and winter months. Couples can provide guests with warm blankets or outdoor heaters to ensure their comfort in colder temperatures. They can also choose venues with indoor spaces to shelter guests from snowfall and freezing temperatures. Considering the weather conditions and taking appropriate measures can ensure that the betrothal day is comfortable and enjoyable for everyone involved, even during the colder months.
Plan for Accommodations
When planning a destination wedding, it's crucial to ensure that your guests have comfortable accommodations. The Pacific Northwest offers a range of lodging options, from luxury hotels to cozy cabins. Consider reserving a block of rooms at a hotel or resort near your wedding venue to make it easy for guests to find a place to stay.
Reserving a Block of Rooms at a Nearby Hotel or Resort for Ease and Convenience
Reserving a block of rooms at a nearby hotel or resort can provide ease and convenience for both the couple and their guests during a destination wedding. It eliminates the need for guests to search for their lodging, and ensures that everyone is staying near the nuptial venue. By reserving a block of rooms, couples can often negotiate a discounted rate for their guests, making it an affordable option. Guests can also enjoy the convenience of being able to socialize with one another throughout their stay, enhancing the marriage experience. Reserving a block of rooms can make the logistics of a destination betrothal much simpler, and provide a positive experience for all involved.
Hire a Wedding Planner
Planning a destination wedding can be overwhelming, especially if you're not familiar with the area. Hiring a planner can help alleviate some of the stress and ensure that your betrothal day goes smoothly. A local wedding planner can offer recommendations for vendors, venues, and accommodations and help you navigate any unique challenges that may arise.
How a Wedding Planner Can Help with Vendor Recommendations, Venue Selection, and Logistical Challenges
A wedding planner can help alleviate stress and ensure a smooth wedding planning process by providing valuable assistance in vendor recommendations, venue selection, and logistical challenges. They have a network of trusted vendors and venues, allowing them to recommend high-quality options that fit the couple's style and budget. They can also help with logistical planning, such as transportation, guest accommodations, and scheduling, ensuring that everything runs smoothly on this amazing and special day. A betrothal planner can act as a liaison between the couple and vendors, streamlining communication and ensuring that everything stays on track. Overall, a betrothal planner can provide invaluable support and expertise, making the planning process and the marriage day itself as stress-free and enjoyable as possible.
Embrace the Local Culture
The Pacific Northwest is known for its unique culture, so why not incorporate some local traditions into your wedding? Consider serving local cuisine, featuring local craft beer or wine, or including elements of the region's history or folklore in your ceremony or decor.
Plan for Outdoor Activities
The Pacific Northwest offers a range of outdoor activities that you and your guests can enjoy during your marriage weekend. Consider scheduling a group hike, a wine-tasting tour, or a kayaking excursion to give your guests a taste of what the region has to offer.
Plan for Travel
Finally, it's essential to prepare for travel when hosting a destination nuptials in the Pacific Northwest. Consider providing transportation for your guests, especially if your wedding venue is located in a remote area. You may also want to consider hosting a welcome dinner or farewell brunch to give your guests more opportunities to connect and explore the region.
Conclusion
In conclusion, planning a destination wedding in the Pacific Northwest can be a fun and exciting adventure, as long as you plan accordingly. Consider the weather, accommodations, and local culture when choosing a location, and hire a local marriage ceremony planner to help you navigate any challenges that may arise. Embrace the region's unique offerings and plan for outdoor activities and travel to ensure that your wedding weekend is a memorable experience for you and your guests.