Your wedding is about taking your love story to another level. It is about you and your husband-to-be. But it's also about celebrating your big day with the people who are closest to you.
So, when you're on the rollercoaster ride of planning your big day, it's important to involve your bridesmaids in picking the dresses they'll be wearing. After all, your wedding will only look like the "stuff of the movies" when everyone looks equally spectacular.
Making the "perfect aisle moment" dream come true, however, is not easy. But it's not impossible either. Here are seven factors to consider when picking the perfect bridesmaids dress.
Hunt for Some Inspiration
When you're about to choose the best bridesmaid dresses in the world, you're going to need plenty of inspiration. You'll have to understand the type of design, fabric, and style the dresses should have. Platforms like Pinterest can be great for unlocking countless bridesmaid dress ideas. Make sure you collect ample pictures of what you like and discuss the dress styles with your bridesmaids.
Let Your Wedding Gown Guide You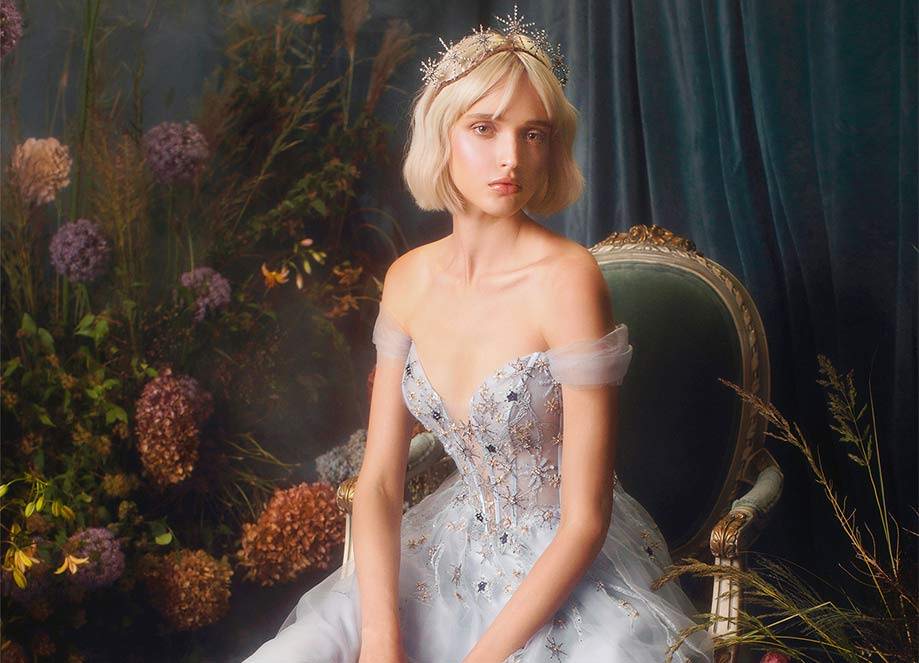 Your wedding gown is the greatest deciding factor when it comes to selecting the bridesmaid's dresses. Sure, the bride must look different from everybody else, but her dress must also align with her bridal squad's.
Start with the style your gown possesses. Is it romantic and whimsical? Consider ruffle sleeves and flowy fabrics for your bridesmaids. Is your gown vintage-inspired? Make sure you avoid dressing your squad in modern silhouettes or trendy gowns.
Next, consider the details of your wedding gown. For example, if you decide to look breathtaking in a lace wedding gown, your bridesmaids' dress code could also include a subtle lace addition. If your wedding gown is in a color other than white, be sure to pick bridesmaid dress colors that complement the hues of your gown.
Finally, align your bridesmaid's dresses with the formality of your gown. To keep the formality aligned, consider the length of the bridesmaids' dresses. For instance, if you're donning a full-length, voluminous silhouette, your squad must also wear full-length pieces with luxe details that blend right in with a sophisticated venue.
Flatter their Body Types
Factor your friends' body types before settling on bridesmaid dress silhouettes. For instance, if your friends avoid minidresses, crop tops, or fully-fitted styles in general, take them off the table!
If your girls have an array of different body shapes and you can't seem to settle on a single style that would work for all of them, consider choosing a color and let them pick their own dresses.
But what if your heart wants a specific silhouette? You can pick a silhouette alongside the color but be flexible when it comes to custom alterations to make sure your friends feel more comfortable on your big day. For instance, small adjustments like toning down a thigh-high slit or including cap sleeves to a sleeveless piece can make a massive difference without changing the look of the party.
Consider the Fabrics
With countless fabric choices available out there, how can you be sure which ones to pick?
From Crepe, which is the year-round wedding favorite to Batiste, known to be "perfect" for spring and summer weddings – fabric choices typically revolve around the silhouette and style of a dress. Once you've settled on a color palette, choosing the fabric becomes a lot easier. When you're narrowing down on the fabric you choose, think about factors including the wedding location, time of the year, and your wedding's formality level.
If all these factors seem to overwhelm you, the easiest way to pick a fabric would be to let your wedding gown guide you.
Aim for the Right Color Palette
Your wedding theme can be the ultimate compass when choosing a bridesmaid dress color. No, you don't have to strictly match the color of these dresses with your wedding color palette. The goal here is to find colors that complement your overall theme. For instance, if you're having a "royal" winter wedding, you can have your bridal squad dress in royal blues or magentas. Similarly, if your wedding venue features bright and sparkly details, it's best to go for bridesmaid dresses with colors that are more toned down.
Take your Wedding Venue into Account
Where your wedding will unfold will impact the décor as well as your wedding gown. So, naturally, it makes sense to pick your bridesmaids' dresses by keeping the venue in mind.
If you're saying "I do" in a sunny seaside locale, go for breathable bridesmaid dresses and avoid heavy gowns with sleeves. The opposite applies if your wedding unfolds in cooler temperatures.
If you're tying the knot in a location featuring uneven terrain (grass or the beach, for instance), have your bridesmaids wear knee-length dresses and footwear choices like wedges, flats, or block heels so they have additional stability. Although these things sound like minor details, they can greatly impact how comfortable your maids are during the wedding.
Use Accessories to Tie Everyone's Look Together
Your bridal party shouldn't match you too closely, but they should also look like your bridesmaids. In other words, there should be something that must tie everyone's look together. One of the best ways to accomplish this is to choose a bridal bouquet that complements the bridesmaid's dresses. For instance, if your wedding color palette is heavy in classic blue and blush and your bridesmaids are dressed in blue, you can have everyone (including yourself) hold a blush bouquet. This makes the entire bridal party look more cohesive.
A Final Word
Now that you have the roadmap to selecting the "perfect" bridesmaids' dresses, here's one final thing to thing to keep in mind – the costs.
Bridesmaids traditionally buy their own dresses. Before selecting a dress, make sure you take your friends' lifestyles into consideration. If you're concerned your wedding might not go easy on one or more of your friends' pockets, you can either have them rent a piece or pick their own dress off the rack. Another great option would be to have them pick a dress that falls in a more affordable range.
That said, even though the rollercoaster of planning a wedding may seem overwhelming at times, don't forget to enjoy the journey until you finally say, "I do!"
Author Bio
Jonah Levine is the Creative Director of TheDressWarehouse.com. TheDressWarehouse.com was launched in 2018 as the go-to online source for amazing designer dresses at affordable prices. With 10 years of experience in the industry, Jonah works daily to scour the markets to find the hottest styles and negotiate the best prices for special occasion wear on the internet.