Discover the essence of 2024 wedding inspiration with an exclusive look at The Bridge Building, a beautiful downtown Nashville event venue. In the heart of Music City, where history meets modernity, The Bridge Building stands as an iconic symbol of timeless love stories.
As we embark on a journey through the enchanting world of weddings held at this historic venue, we invite you to explore the magic and inclusivity that define each celebration. From romantic garden-inspired soirées to eclectic festival-inspired unions, The Bridge Building has been witness to an array of love stories that transcend boundaries.
In this article, we'll not only share these extraordinary tales but also provide you with the latest wedding trends for 2024, ensuring your special day is both memorable and inclusive.
Click here to see the table of contents
The Bridge Building: A Timeless Venue
Nestled in the heart of downtown Nashville, The Bridge Building is a cherished landmark that traces its roots back to 1908. Its enduring presence makes it an integral part of the city's historical fabric. What sets The Bridge Building apart is not just its rich history but also its unwavering commitment to inclusivity.
This historically significant location presents an enthralling fusion of timeless elegance and modern appeal. An enchanting option for couples in search of a premier wedding venue, its architectural magnificence contrasts with the serene Cumberland River and the vibrant cityscape.
The Bridge Building takes pride in embracing diversity and ensuring that every couple, regardless of their background, feels genuinely celebrated. In a world where wedding traditions are evolving towards greater inclusivity, The Bridge Building serves as a trailblazer, setting the standard for weddings that honour love in all its forms.
Consider The Bridge Building, an architectural marvel that merges history and modernity, as the setting for your 2024 wedding preparations. This location will ensure that your union becomes an enduring and significant part of the illustrious heritage of Nashville.
Top Weddings at The Bridge Building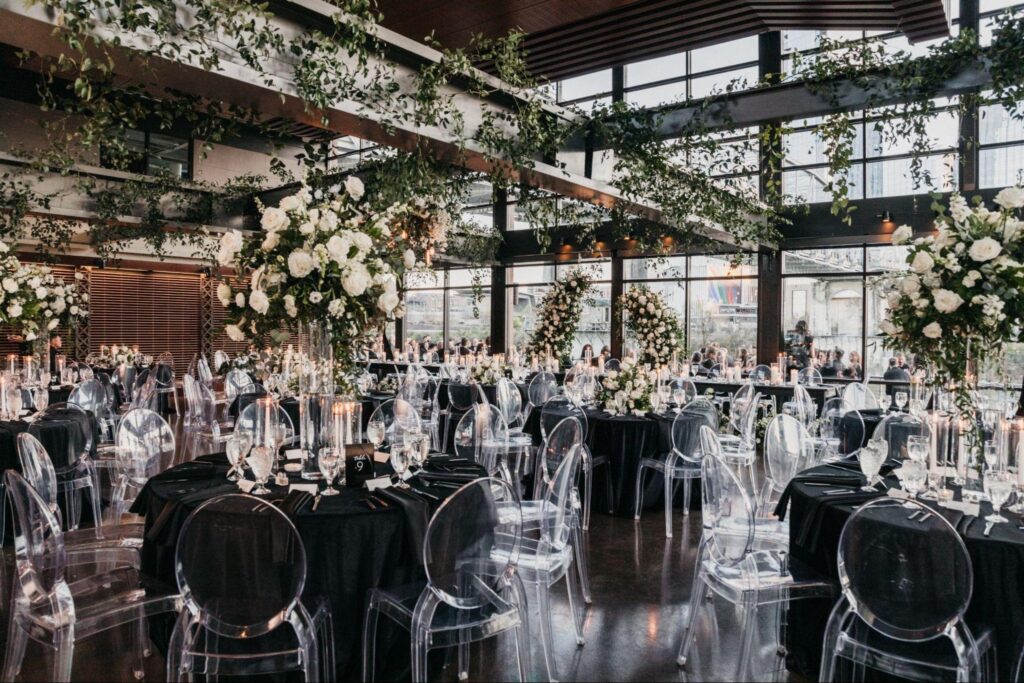 The Bridge Building played host to a series of weddings that epitomized the diverse tapestry of love. Each wedding was a unique and captivating celebration, a testament to the versatility and inclusivity that The Bridge Building offers as a venue.
Emmy and Mike: Eclectic Festival-Inspired Wedding
Emmy and Mike's wedding at Bridge Building was nothing short of a vibrant, joyful festival of love. Drawing inspiration from the exuberance of music festivals, their celebration was an explosion of colour and creativity. With live music, a kaleidoscope of hues, and a playful atmosphere, their wedding was an embodiment of their unique personalities and love story.
The ceremony, set against the backdrop of the Cumberland River, was a breathtaking spectacle of love and inclusivity. The Bridge Building's commitment to embracing diversity was evident as Emmy and Mike were celebrated; their wedding was a beautiful testament to the power of love to transcend boundaries and expectations.
Gage and Brian: Romantic Garden-Inspired Wedding
Gage and Brian's wedding at The Bridge Building was a symphony of romance and nature. Taking advantage of the riverfront patio, their celebration exuded timeless elegance. Their special day was characterized by delicate floral arrangements, soft pastel hues, and an intimate atmosphere.
What truly made Gage and Brian's wedding exceptional was the personalized touch they added to their ceremony. The Bridge Building provided them with a canvas to express their creativity, resulting in a marriage that resonated with their unique love story. Inclusivity was at the forefront of their celebration, creating an environment where all felt genuinely embraced.
Alexis and Zach: Modern Neutral Wedding
Alexis and Zach's wedding at The Bridge Building embodied the beauty of simplicity and modernity. With a neutral colour palette, clean lines, and minimalist decor, their celebration exuded sophistication and understated elegance.
The Bridge Building's timeless architecture provided the perfect backdrop for their contemporary affair.
Inclusivity remained a focal point of Alexis and Zach's wedding planning. The venue's commitment to flexibility allowed the couple to design a wedding that accurately reflected their values and love, free from the constraints.
The Bridge Building hosted many weddings in years past, which merely provide an insight into the enchanting love narratives that have been enshrined within its historic confines. As we look forward to 2024 and beyond, The Bridge Building continues to stand as a sanctuary for love, inclusivity, and the celebration of individuality.
Wedding Trends for 2024
In the ever-evolving realm of weddings, staying attuned to the latest trends is essential to crafting a memorable and contemporary celebration. As you plan your 2024 wedding at The Bridge Building, let's delve into the exciting trends that are set to shape the year:
Sustainable Elegance:
Sustainability continues to be a focal point in wedding planning. Couples are opting for eco-friendly choices, from invitations made of recycled materials to locally sourced, organic catering options. At The Bridge Building, sustainability meets luxury, allowing you to host an eco-conscious wedding that is both elegant and environmentally responsible.
Intimate Gatherings
Smaller, intimate weddings are gaining popularity. Couples are choosing more meaningful, personal celebrations with close family and friends. The Bridge Building's versatile spaces can accommodate intimate gatherings, providing an ideal setting for a wedding filled with genuine connections.
Statement Flowers
Floral arrangements are taking centre stage in 2024. Couples are using bold and unconventional flowers to create breathtaking installations and bouquets.
The Bridge Building's riverfront patio is an ideal location to showcase exquisite floral arrangements, whether you are envisioning a glamorous garden wedding or a contemporary affair.
Inclusive Decor
Inclusivity transcends language. Wedding decor is becoming more diverse and inclusive, with couples incorporating elements from various cultures and traditions to celebrate their unique backgrounds.
The Bridge Building warmly embraces this trend, offering a versatile backdrop for personalized decor that respects and celebrates diversity.
Tech-Savvy Celebrations
Technology continues to play a significant role in weddings. Live-streaming ceremonies, virtual guest books, and interactive photo booths are becoming the norm. The Bridge Building's state-of-the-art facilities are equipped to seamlessly integrate technology into your celebration, ensuring that every guest, near or far, feels connected.
Fashion Forward
Wedding attire is becoming more diverse and fashion-forward. Couples are selecting attire that reflects their style, irrespective of gender norms. The Bridge Building's timeless elegance complements a wide range of fashion choices, allowing you to express your unique style on your special day.
By weaving these trends into your wedding at The Bridge Building, you can create a celebration that is not only on-trend but also aligned with the values of inclusivity and authenticity upheld by the venue.
As you embark on the journey of planning your 2024 wedding, let these trends inspire you to craft a celebration that reflects your love story and the beauty of the moment.
Planning Your Dream Wedding at The Bridge Building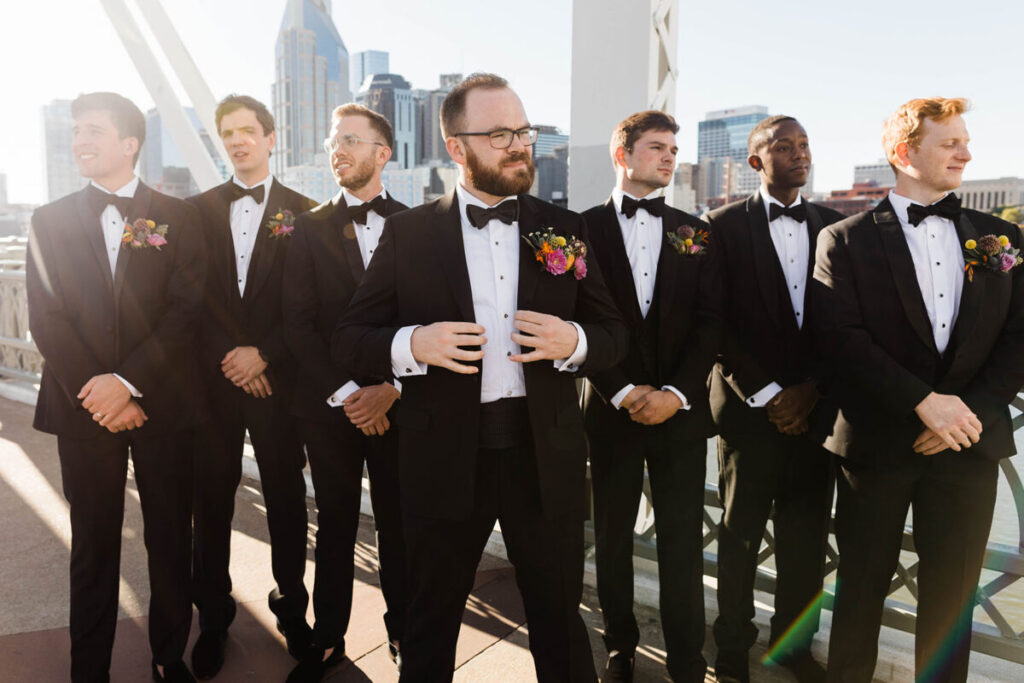 It's time to start the process of planning your ideal wedding at this iconic Nashville location now that the captivating weddings at The Bridge Building and the exciting trends for 2024 have inspired you.
With The Bridge Building as your canvas, your 2024 wedding will be a cherished chapter in Nashville's history, celebrating love in all its forms and a testament to inclusivity and authenticity.
Situated in the heart of Music City, The Bridge Building exemplifies timeless elegance and inclusiveness. The wedding ceremonies on display show what this place is all about, it is a safe place where love knows no bounds.
As you plan your 2024 wedding, let The Bridge Building be the canvas for your unique love story. With a commitment to inclusivity, personalized details, and a warm embrace of diversity, this historic venue is ready to make your dream wedding a reality.