Reading Time:
6
minutes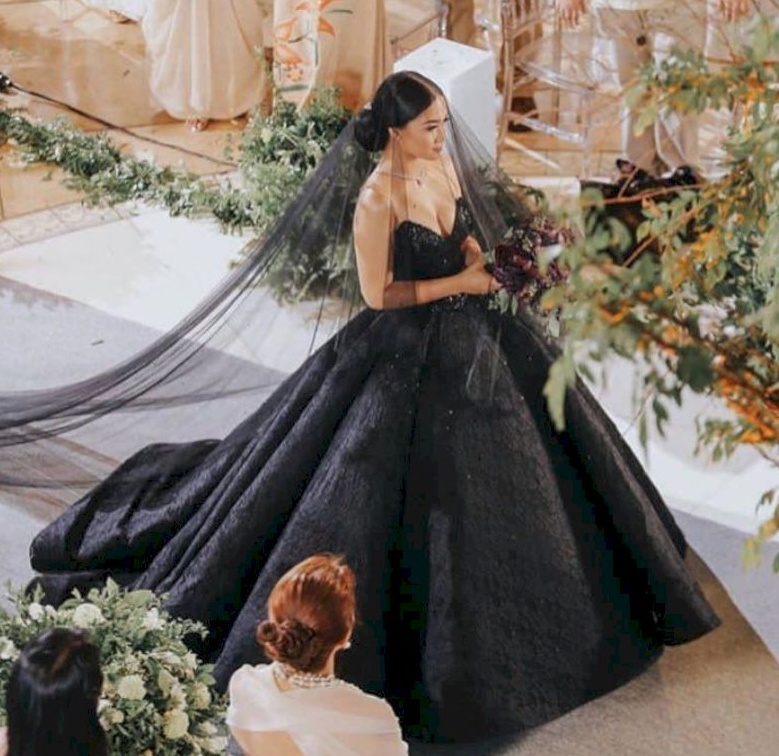 Go for Black Wedding Dress
The wedding day is one of the most memorable and special days throughout everybody's life. Keepsakes left on that day will be treasured in many years to come. You must have already had versions of what your big day will look like. Surely, an appealing look with a trendy floating dress is a must. Besides, brilliant rings, elaborate flowers, exquisite cake, etc are all discovered.
A long time before the ceremony, brides-to-be begin hunting for a fashionable and unique wedding gown. However, what happens when the traditional wedding nature and white wedding dress do not touch the right chord for you? For most girls, they still stick with lousy clichés even though those old dos and don'ts simply do not fit their tastes and what they expect. But you, stop considering the traditional form to be ideal. If your favor does not lie on white, why not find a red, purple, green, blue or even black wedding dress?
Due to fresh sensation and bold creativity, black wedding gowns move many girls' heartstrings. They bring out modern and sophisticated looks. Sexiness and charm perceived from such a tranquil color steal the show. Most modern girls prefer black and white wedding dresses. Surely, the clear contrast and color balance can not be achieved by washed-out classic white gowns alone.
Black Wedding Dress History
The fashion trend of the white wedding dress dates back to Queen Victoria. Owning to symbolizing innocence and carrying pure wishes, they are the first choices for most soon-to-be brides till now.
Then, when did the black wedding dress fad begin?
The fashion trend of the white wedding dress dates back to Queen Victoria. Owning to symbolizing innocence and carrying pure wishes, they are the first choices for most soon-to-be brides till now. Then, when did the black wedding dress fad begin?
Even though these quiet styles had been pursued by some artists before, most people got touched on the 2008 wedding show season in Paris. That time, black wedding gowns made the most surprising trend. The world-wide known designer—Max Chaoul set this fresh & charming trend for brides.
Some more moderately priced brands like Creations Bochet also made black wedding gowns, replacing white. Artist of Cymbeline Paris showed four diverse black wedding dress styles in her 2008 collection.
It's predicted those black looks would conquer and became the next mainstream to walk down American aisles. Then, until now, this has been confirmed. Black wedding gowns evoke some hidden passions and steal the thunder of traditional white styles.
Black Wedding Dress in 2020: Trends to follow
Most A-list designers show crazy fascinations on black wedding dresses today. People's appetites for luxury are satisfied. However, if you do not mind the brand but only die for a mysterious or royally charming look, go for a custom made black wedding gown, please. Most wedding gown suppliers offer free custom made service. Pick a classy black fabric and let it be customized by a professional designer or tailor.
Like artists, these new styles seem to be alluring for celebrities too. They wore black wedding dresses on their big days or when they get engaged. Kristen Stewart, America Ferrera, and Megan Fox are all trendsetters for black wedding gowns.
Black wedding dresses are crafted to be in various styles. Once you love this color, you must be able to find an ideal style on the market. Black a-line wedding gowns also flatter wearers' figures. Black empire waist wedding gowns speak for sexier looks than white. Black mermaid wedding gowns create slimmer silhouettes. You may not be a princess with a black wedding dress as you will exactly be the queen.
Where do black wedding dresses fit?
It's a fact that modern girls opt for new wedding natures They always seek for something distinct. The traditional church wedding is not a dream any longer. They more expect outdoor or seaside weddings. However, black is less universal than white. You will only be suggested to wear a black wedding gown for a casual wedding nature. Yes, it depends on the formality level of your wedding. Surely, a formal nature will require you to dress up with a white wedding gown.
How to rock a black wedding dress without going over the top?
Pair it with white. It's better to select a black wedding gown with white or ivory. Surely, black will take a larger proportion. With a balanced color and blending pattern, the silhouette even seems more appealing.
Choose a fluid & tight style. As black wedding gowns with ruffles or several layers always make you look like a Gothic prom queen, you are suggested to look for a style with a tight bodice and a floating skirt that flares out around the hip. The floor-length style will be better.
So, a blend between a cocktail dress and a classic wedding gown may offer you an ideal option.
Never go for dark makeup. This is absolutely a fashion no-no. Certainly, you will never plan to look like something out of the graveyard. Then, do not go for heavy makeup. Just make a fresh-faced and dewy look.
Select a sheer and lightweight fabric. Unlike white, black simply screams Gothic teenagers. Once you want a glamorous, but decent look, go for thin materials like chiffon, satin, and silk, please.
Give up exaggerating jewelry. Never will a bride want to look cluttered. Then, do not put on a heavy Victorian-style necklace while wearing a black wedding gown. Just pick a pair of drop earrings directly.
There isn't a hard-and-fast rule for vogue. Surely, the above advice is not set in stone. Just use your best judgment and sense of style while choosing a black wedding dress.
Black and White Wedding Dresses
Shy to wear a full black wedding dress at your wedding? Well, if you still want to get out of the patterns, you have a very good alternative: To wear a Black and White wedding dress. 
The color black in itself is a very bold color for a wedding dress. This is why it is advisable to opt for the black and white wedding dress as the touch of white will go a long way in complementing the dress and making it look a little more relaxed but attractive at the same time. If there is a combination of colors that are easy to match, it has to be a mixture of black and white. This is why the black and white wedding dress is preferred because it presents the wedding organizers with a lot less to do about arranging the wedding and creating the ideal theme. You can go for an entirely black and white theme for the entire wedding as this will also help a lot to complement the entire wedding setting.
The choice of the color white has been the renowned theme for any wedding out there. However, this may have consumed all the motivation that people have for weddings and it wouldn't be wrong to try and spice things up. This is where the black and white wedding dress comes in as it happens to be just right for the spiced up look. It is definitely that every bride wishes to have a magnificent wedding that will leave people with a lot to think about. This being the case, you as the bride have to go through great lengths to try and spice things up as much as possible by the use of the black and white wedding dress, to leave a memorable mark in people's minds.
In the quest of trying to create a unique wedding theme and atmosphere, the black and white wedding dress turned out to be the preferred option. The fact that black and white colors match quite well will help to simplify the process of selecting the ideal wedding dress as they will usually have different designs. Various wedding dress designers will come up with various imprints and patterns to apply on the dress. Some black and white wedding dress ideas can be effective at giving you that stunning look.
You should also look forward to accessorizing the black and white wedding dress with the right combination of items that will make you sparkle. You should also complement the black and white wedding dress with the right color of shoes and jewelry. Do not also forget to select the ideal choice of flowers for the bouquet that the bride will use throughout the wedding. 
Best Black and White Wedding Dresses To Buy In 2020
We made a list with the best black and white wedding dresses to buy in 2020 from Amazon. It is worth to give a try!