Wedding Dresses Guide: Style, Color, Size, Fabrics
How To Choose A Wedding Dress | Choosing the perfect wedding dress can be the most exciting part of the wedding preparation for the bride-to-be, but it can also be the most taxing one. For most women, wedding dresses are the most important detail on their wedding day. A lot of preparations and just as many decisions need to be made to be able to choose the right wedding dress.
Click here to see the table of contents
Intro
Every season there are literally thousands of wedding dresses available for the choosing by hundreds of designers and manufacturers. To some brides, this level of selection is like a dream come true, to others it is more of a nightmare.
Whichever category you fall in to, be warned that shopping for a dress amid all of the choices can lead to frustration and confusion. Steady yourself and stay calm rather than allowing yourself to become overwhelmed.
Instead of giving in to frustration, appreciate the options you have instead of letting them overwhelm and confuse you. The good news is that with all of the variety, there IS a dress out there that is perfect for you, AND within your budget. Enjoy the adventure of finding it. Its all part of the wedding planning experience and the process can really be a lot of fun if you approach it with the right attitude.
If you're the type who likes to see it all and who wants to exhaust all of her options, then settle in and spend some time clicking through all of the designers, manufacturers and collections we've listed here, one by one.
If on the other hand, that level of selection overwhelms you, don't feel that you have to see it all. Focus on looking at the collections or designers you know are within your price range, whose names you recognize, or whose designs you are already familiar with.
Regardless of your approach, keep a pen and paper close by. Make notes of the designers and style numbers you are interested in, then go back to narrow it down later.
Next, visit bridal boutiques in your area to see what they have available and start trying dresses on. Keep in mind that often what looks great on a model in a photo may not be so perfect for you when you try it on. When you are in the boutique, be open to trying styles you might not have originally considered.
Take someone with you when you shop – your mom, sister, or maid of honor (some brides these days even take their fiance – after all, you want him to LOVE the wedding dress you choose, right?). It is helpful to know how others see you in the dresses you try on. Find out from the boutique staff if it is alright for someone to snap pictures of you in the dresses you try on. It can be super-helpful to look these over later when you go home and relax – it gives you a whole different perspective.
The average bride takes 4 to 6 weeks of serious searching to select her wedding dress. She tries on 15 to 20 gowns and visits an average of 4 to 5 bridal boutiques before choosing THE one. You may spend more or less time and effort in the process – these numbers are merely an average. But be assured, with this much selection available to you, whether you find it sooner or later, a dress that is perfect for you is out there and it is only a matter of time before you cross its path.
The wedding year
First, consider the time of year in which you are going to have the wedding. This will help you narrow your apparel choices down when it comes to the materials of the dress you want to wear as well as the materials and the decor you want to have on your dress. Even little details such as the sleeves and the length of your dress should be thought about carefully, and making the season part of your decision will help you end up with a smaller list of wedding dresses.
Bride Dress Silhouette
Next, think about the silhouette of your wedding gown. Do you want a long, flowing one, or are you thinking more of a ball gown, maybe even a slimming dress that will emphasize your figure?
You should always shop early so you'll get to look at as many wedding gowns as you need to make your choice. Try on as many as you can because you'll only get one time to wear it and you're going to need this wedding to be special.
So, in this Wedding Dresses Guide you will learn:
II. How to Choose the Fabric of Your Wedding Dress
III. How to Choose the Color of Your Wedding Dress
IV. How to Take Measurements for Your Wedding Dress
---
What to wear is the matter that draws the most attention from a bride-to-be. An ideal wedding dress will help her accentuate her personality and charm the crowd. Then, the most important element of her wedding gown must be the style.
Fortunately, wedding dresses available on the present market cover a rich collection of styles, lengths, colors, and accessories. Any kind of fashion taste will be catered by the really required wedding gown. Then, how can you pick out the wedding dress style that is only waiting for you? Below, some tips are shared with you.
Tip 1: Keep an Open Mind to the Current Fashion Sense and Also Advice from Your Friend
Before setting your foot into a bridal shop, it's a must to do some researches. You should have a bit of knowledge about wedding dresses and also the latest trend for these special gowns. In this case, you will be able to fluently communicate with salespersons and find the required wedding gown more quickly.
If you are not a person who makes a habit of wearing extravagant frocks, you may not know which dress shape that best suits you. And since all salespersons work for commission, you will have to keep cautious about advice from them. Thus, it' s of great importance to ask a friend or relative to shop together with you.
Tip 2: Decide the Wedding Dress Type
Honestly speaking, this decision depends on your wedding theme. Will it be held in a huge cathedral and seem rather magnificent? Or will it be a sophisticated evening event with a civil ceremony?
Since simple beach weddings in the tropics become popular in the modern era, do you want to take a try too? Certainly, what you wear should look harmonious with your wedding avenue and settings.
If your wedding is held in a grand building, you will certainly not want to wear a cute baby doll wedding gown.
If you plan to generate a romantic beach wedding, you may never feel comfortable while wearing an elegant wedding dress with a long train. However, the choice is yours.
After all, it' s your own wedding. As long as you look wonderful with a wedding dress and your husband-to-be loves the way you look, buy it.
Tip 3: Best Wedding Dresses For Each Body Types
Bride Silhouette Guide
Today' s wedding dresses are made according to various silhouettes. Either apple or hourglass body shape can be ideally flattered. But while looking at photos of each type, remember to see photos of real women wearing gowns, instead of pictures of professional models. Besides, the following words bring you a rough understanding of popular silhouettes. Below you will find the best wedding dress style for body type.
A-line Wedding Dresses
This is the most classic silhouette and seems like carrying eternal appeal. It usually has a fitted bodice with a skirt that flares out around the waist. The dress seems like an uppercase word of A, flattering almost any body shape. For people who want to hide chubby abdomen and other lower body flaws, yet do not want to wear ball gown wedding dresses, they must feel fascinated about figure-flattering a line wedding dresses.
Empire Waist Wedding Dress
Never have we found the empire waist wedding dress went out of fashion. When femininity is ideally accentuated, an overwhelmed appeal is created. This silhouette carries a dress that falls from just below the breast, usually fitting a casual or non-formal nuptial. If you are fond of a tropical wedding, consider it please since so many eye-catching scenes have been created by girls with empire waist wedding gown. Because of offering an extra room on the waist, the empire waist is also an ideal choice for pregnant brides.
Princess Wedding Dresses
What is a princess style wedding dresses?
Perfect combinations between cuteness, elegance and slim silhouettes, princess wedding dresses will continue to be popular in many years to come. Some girls don't seem great with traditional a line and feminine empire waist wedding dresses usually find the really desirable style amongst princess wedding dresses.
Ball Gown Wedding Dress
What is a ball gown wedding dress?
Full skirts carried by ball gown wedding dress look beautiful on almost any body shape and add ornate touches to the wearer' s entire appearance. Ball gown wedding dress will have crinolines built-in or a slip that you must wear to support the shape of your dress. Make sure you have already carefully thought about if planning to buy a ball gown wedding dress because the heavy and bulky fabric hidden inside may require extra care.
Sheath Wedding Dress
Girls who dislike their figures will never be recommended to wear a sheath wedding dress, which only flatters slim and balanced figures. Any flaw on your body shape will be shown on a sheath dress. Avoid it if you have big thighs or butt.
Tip 4: Choose the Wedding Dress Neckline
Top wedding dress neckline styles:
Sweetheart
Without overdoing sexuality, sweetheart wedding dresses often seem dolce and elegant, making every breath the bride takes glamorous. It' s used on both long and short wedding dresses, making wearers feel like princesses. Since simple elegance and delicateness become prevailing themes on today's wedding gowns, chic sweetheart wedding dresses pop out in the industry
Strapless Wedding Dress
This is an evergreen force on the bridal wear arena. It fits any wedding theme and often draws attention from females in different age groups. It' s versatile and can be made to be different versions. But nowadays, simple, yet sophisticated strapless wedding dresses steal the show. How about considering an understated yet delicate style?
Halter Wedding Dress
I do not know since what time when halter wedding dresses become so popular. But it' s true they make girls elegant and queen-like. Without intricate or extravagant accessories, they usually seem chic and high-end. Sometimes, the halter is made to be long, draping on the back, which becomes a finishing touch to make the wedding dress more beautiful.
Off the Shoulder Wedding Dress
it seems like being destined to accentuate femininity and make a girl overwhelmed appealing. It does not overdo sex appeal and just helps a girl charm the crowd. It' s nothing strange to see a distinguished celebrity wears an off the shoulder dress for a high-end award ceremony or launch event. To flatter a rich fashion taste, consider it, please.
One Shoulder Wedding Dress
A new yet amazing force in the fashion bridal wear industry helps so many girls show their bests. The asymmetrical version usually slims the silhouettes. If you plan to buy a one-shoulder wedding dress, you will be recommended to choose a long style, which better fits the ornate sense on the dress.
Tip 5: Choose the Length
The length of your wedding dress is usually decided by your favor, and also the formality of your nuptial.
A floor-length wedding dress certainly well fits a formal ceremony.
For a less formal theme, an ankle-length dress, which reaches your ankles, is a great idea.
Tea-length wedding dress, which are long to your calves and often made to carry a length difference on the front and back of the dress, are great options to accentuate femininity, seeming chic and ornate.
Knee-length wedding dresses ( also known as short wedding dresses ) are items stealing the show on the current market. Reaching to knees, they can be worn for both formal and casual events.
To add youthful touches to your look, a mini dress, which reaches your thighs, may be wonderful.
Tip 6: Long Sleeve Wedding Dresses?
Do you love your arms? If not, a long sleeve wedding dress decorated by exquisite lace may be a better option than a strapless or off the shoulder. If you have wide shoulders, consider sleeved wedding dresses too. Or, pair your wedding dress with a jacket, shrug or wrap directly.
Tip 7: Train or Not? And Which Train Length Do You Love?
What is Wedding Dress Train?
Train refers to the material that extends at the back of the dress. Various lengths are used on the train. The shortest version is a sweep or duster train, which usually extends no more than 50cm from the hem of the dress. This style is loved by lots of girls because of enabling them to move freely and seeming elegant.
Then, a chapel train is often made to be a meter long. Cathedral trains can be made to be two meters long or more. While choosing the train, it' s a must to think about the theme of your wedding. Usually speaking, the longer the train is, the more formal the dress will be.
Tip 8: How to choose the Wedding Veils, Wedding Crown and Other Headdresses
Wedding Veils often come in different types and lengths. To make the appearance more dreamlike, two or more layered veils are loved by more girls. In most cases, veils are decorated by scattered crystals, sequins or beads, seeming rather delicate.
Like the veil, the crown can be also a chic touch to your wedding semblance. Covered by crystals, beads or feathers, exquisite crowns will make you seem more glamorous undoubtedly. Finally, do you want to wear some jewelry or flowers in your hair? Of course, this is decided by you.
Each small element on your wedding dress can contribute a lot to light up your glamour. Because of symbolizing a new origin in life, an ideal wedding dress deserves your full attention.
---
II. How to Choose the Wedding Dress Fabric
The wedding dress is one of the most important purchases throughout each girl' s life. Present wedding dresses come in a variety of styles, silhouettes and also fabrics. Of course, each element takes a crucial part in enhancing your appeal. This part of the wedding dresses article helps you better understand properties on different materials.
Satin Wedding Dresses
Satin is one of the most well-known components of wedding dresses mainly because of offering a bridal gown more style. If you are fond of stylish wedding dresses, satin will be an excellent option for the fabric. From time to time, it is also known as Duchess Satin, which flatters almost any silhouette of wedding dresses. A draped skirt normally seems to be far better if it is created from satin. Seeming outstanding both being plain or being decorated with lace, satin can be used on semi-formal and formal wedding ceremonies.
Silk Wedding Dresses ( Also known as " Silk Taffeta " )
Another wonderful fabric for ornate wedding dresses must be silk taffeta. This fabric usually seems bright and then elegant. It' s available in a variety of textures and weights. Taffeta, a material that is usually made to carry various weaves, may cause a rustling noise while walking. If you dislike this extra sound, avoid silk taffeta, please. And some taffeta materials have a strong sheen that will be difficult to be photographed.
Organza Wedding Dress
Much lighter than satin yet heavier than taffeta, organza also offers wonderful structures on wedding gowns. It seems clean and can be easily paired with other fabrics. Beadwork and lace are popular accessories on organza, seeming exquisite and feeling lightsome.
Silk Charmeuse Wedding Dress
Silk charmeuse is considered to be one of the most luxurious wedding dress fabrics. Its suppleness is usually put into good use and makes a dress seem rather glamorous. Like silk taffeta, silk charmeuse also seems rather bright, which makes it a great fabric to draw attention. Besides, this material wonderfully flatters the wearer' s body shape. For girls who dislike intricate accessories on their wedding gowns and feel rather confident with their slim silhouettes, silk charmeuse wedding dresses must be great ideas for them.
Georgette Wedding Dress
The sheer and seductive property on georgette makes it a favorite fabric for dresses featuring excessive draping. Seeming and feeling ethereal, georgette can be used on skirt overlays, train attachments or body-skimming designs. Due to rather sheer, georgette must be lined while being used as the main fabric of a wedding dress.
Chiffon Wedding Dress
Never have chiffon wedding dresses gone out of style. Various silhouettes are wonderfully flattered by gorgeous chiffon dresses, which are often considered to be great deals for late afternoon or evening ceremonies. But because of seeming rather transparent, a chiffon wedding own needs a lining.
Tulle Wedding Dress
Typically made of nylon or lace, tulle wedding dresses usually feel lightweight and seem exquisite. Machine-made smooth lines seem extremely fine. It also creates stunning structures on a dress, usually with a hexagon-shaped mesh effect. Most dance costumes and bridal veils are also made from tulle.
As the styles and prices, fabrics on wedding dresses are also available in a large variety. Except for the above categories, velvet, crepe back satin, brocade, matte jersey, etc are all used to create wedding gowns. When it comes to choosing the ideal fabric, it' s a must to consider the formality of your wedding ceremony. Also, will you feel comfortable with the fabric you plan to choose? To hold a perfect wedding, an elegant and also comfortable wedding dress is certainly a must-have item.
Lace Wedding Dress
Every bride-to-be wants to find a gorgeous gown for her special day. When it comes to selecting the right style, there are so many options available as bridal gowns come with a variety of fabrics, styles, and colors. To narrow your choices down, it is recommended that you think about what kind of fabric you want before heading for bridal stores. If you want to buy a beautiful and elegant gown for this important occasion, the lace wedding dress will always suffice.
Lace stays in vogue nowadays for its romance and beauty. Dresses using this special material was once only for the domain of royalty. Today's brides can look and feel royal wearing stunning lace gowns at their wedding ceremonies. If you have decided to purchase a lace wedding dress, you need to know that lace comes in many distinctive varieties, such as Alencon lace, French Leavers lace, Chantilly lace, and Venise lace. Among them, French Leavers lace is the most stylish and well-accepted one. No matter which kind of lace you choose, your wedding gown surely will add an elegant touch to your look.
As the most cherished dresses, lace wedding dresses are crafted in a wide range of designs, ranging from classic and demure to sexy and charming styles with a romantic feeling. Whether your dress is detailed with small lace appliques or covered in it, it is sure to be special and exquisite.
Here are some elegant and popular lace wedding dresses for your reference.
For brides who prefer a body-conscious dress that looks appealing, opt for a gown with lightweight lace draped over a silk charmeuse. To highlight your best features and show off your curvy body, it is a great idea to apply beaded lace on your dress. This helps to pull the fabric down and make them cling to the body.
Compared with dresses made with other nice materials like charmeuse and crepe, lace wedding gowns are much more forgiving and can create a perfect balance between a modern sophisticated cut and a traditional bridal fabric. Besides, this type of dress looks great on brides of all ages.
Of course, you can choose an all-over lace wedding dress to complete a traditional look. When you are looking for this type of gown, you can purchase it from bridal stores or set your worries aside and wear your grandmother's lace gown.
Vintage wedding dresses can be an absolute luxury as long as the lace stays in good quality. If draped over a stiff lining, your fully laced wedding dress will appear very formal. Brides who desire a romantic style also can opt for it.
Lace Wedding Dress
Popular wedding dresses also cover 1950s lace wedding gowns. A strapless taffeta wedding dress gown embellished with lace applique on the bodice and around the hem is a classic style that can make your big day wonderful. Of course, you can add a satin bow at the waist of the dress.
How to accessorize your lace wedding gown? When wearing a strapless style for a formal church wedding, you can pick a matched bolero jackets to hide a bot of the arm as you are walking down the aisle. Classic jewelry like peals and coordinating earrings will add beauty to your lace wedding gown.
If you love lace, go ahead and choose a flirty lace wedding gown that can show off your best features and make your wedding reception wonderful and memorable.
---
III. How to Choose the Color of Your Wedding Dress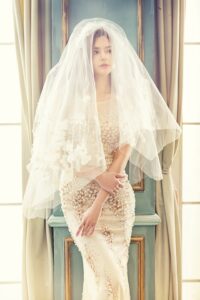 Amongst crucial elements that make your wedding perfect, your wedding dress always draws the most attention. This will never be changed. Luckily, lots of beautiful wedding gowns are available on the present market, catering to various appreciations for style and fitting most themes. Then, which style is desired by you? While choosing your wedding dress, style, color, fabric, size, comfort, and price are all important aspects. This time, tips helping you find an ideal color on your wedding dress are shared with you.
Tip 1: White is Not the Only Choice on a Wedding Dress
Girls, the period when Queen Victoria has worn a white wedding dress has been gone away. You are not required to wear a long white wedding dress and even white headwear on your big day. In China, red is the most popular color on bridal wear, which symbolizes happiness and luckiness.
In the 20th century, silver wedding dresses became popular because of showing the distinguished status of royalty. Then, along with the transformations on people's s aesthetic standards and also changes in fashion trends, cream, pink, orange, blue, purple, green, etc pop out on the fashion bridal wear market. Nobody can deny they also seem and feel great. Then in the modern era, white wedding dresses still steal the limelight because of symbolizing innocence, exquisiteness and spontaneous elegance. But effects triggered by other chic colors also last. Thus, just keep an open mind to the latest fashion sense on wedding dress colors and choose a color you are fond of.
Tip 2: The Wedding Dress Color Should Fit Your Complexion
To be honest, it does not matter what color you have chosen. The really significant matter is whether you look great with that color. Does it flatter your skin tone? As we all know, the complexion of the Asian is a little yellow, which usually looks more harmonious and natural with ivory. Then, dark colors such as purple, blue, green, etc are probably not great choices for Asian brides. But for girls with white or bronze skin tones, they will still show their bests with purely white wedding dresses.
Tip 3: The Wedding Dress Color Should Go Well with Your Wedding Theme
It's a must to make you an eye-catching hit on your big day. Memories left on that special date will usually be treasured in many years to come. But anytime, it' s not a wise idea to make you stand out in the crowd by a disharmonious color on your clothing. When it comes to choosing the color of your wedding dress, it' s of great importance to take the color scheme of your wedding venue and also wedding entourage into consideration.
Tip 4: Consider the Season
A romantic spring wedding, a simple summer beach wedding and a luxurious winter church wedding all sound great. But certainly, wedding dresses in different colors should be worn for diverse themes. Pink, lilac, and blue are always loved by girls who generate their weddings in spring. But deeper shades of these same colors seem much greater for a summer wedding. Then, fall weddings may require you to put on a yellow, gold or orange wedding gown.
Finally, if you look forward to making a bold statement, why not be a winter bride? Wedding dresses in deep red, blue or even metallic hues will make you incredibly elegant undoubtedly.
Tip 5: Pay Attention to Prints or Pastels on Your Wedding Dress
There will be some girls who show deep interest in color yet do not want to make the color too obvious. In this case, faint colors are items they desire. Light blue and pale pink wedding dresses are strongly recommended here, which add colors without going overboard. Then, like the effect of pastels, prints on wedding gowns can be also finishing touches to make dresses seem more elegant without overdoing a bold statement. Both formal and casual wedding dresses are decorated with lovely floral prints, exquisite flower patterns, etc nowadays.
Tip 6: Go to a Local Store and Try Your Favorite Color
It' s necessary to do this before placing your order. Before putting on the dress personally, you will never know whether it fits your skin tone or not. If you plan to shop online, it' s completely okay to ask for a free fabric sample from the dealer. In this case, any color shade is also avoided.
Undoubtedly, like the style and accessories, the right choice on the color of your wedding dress will help you show your best on your big day.
---
Colored Wedding Dresses 2023
Colored wedding dresses have set off a new trend among brides all over the world. They can be seen at wedding receptions from Europe to America. Colored wedding dresses are designed for brides who want to wear unique gowns to make their wedding impressive.
You are free to choose a pink, red, silver, orange, blue, champagne or even a black wedding dress or just add a splash of color to your dress. Generally speaking, soft shades such as silver, pale pink and champagne look great as a full dress. While bold colors like black, red and orange may seem a little off as a full dress. If you have no idea about what color to select, below are some stunning colored bridal dresses for your reference.
Pink Wedding Dresses
As a romantic and feminine color, pink looks perfect at weddings or bridal gowns. Chic pink wedding dresses are available in varied shades ranging from bright eye-catching shades to soft subtle hints of pink. With so many options, you may find it difficult to pick the right one. Just bear in mind that lighter shades of pink are favored for weddings and bridal gowns.
Like white wedding dresses, pink bridal dresses also come in a variety of styles in the market. You can pick a dress with sweetheart, v-shaped, halter or scoop neckline.
When it comes to selecting the silhouette of your dress, choices cover A-line, column and ballgown styles. Detailed with crystal beading, lace, and embroidery, pink dresses can offer you an amazing look. Of course, if dresses crafted in totally pink is not your style, think a way to incorporate pink into your gown.
How about adding a pink sash or rosettes, or even pink lace trim or embroidery onto your white gown? It is also a great way to flaunt your romantic side. Anyway, wearing a stylish pink dress will make you a dazzling romantic bride at the wedding ceremony.
Still curious? Click here to learn about

Pink Wedding Dresses
.
Red Wedding Dresses
Most brides-to-be want to have an exceptional yet memorable wedding. They always try to find ways to set their wedding apart from those of their friends and relatives. Buying a red wedding dress for your big day is a great idea to make your wedding unique. Brides walking down the aisle with a red dress just set themselves separately and add a little flair to their wedding at the same time.
Some brides desire to purchase a red wedding dress for their reception to put in a little European flair to their wedding. This type of gown has been a big trend in European countries for the last few years and brides in America have started catching up with this trend. For brides who prefer a white or off white dress, it is a great idea to add a splash of red to her gown.
Still curious? Click here to learn about

Red Wedding Dresses
Silver Wedding Dresses
Silver wedding dresses look unique and different. The meaning of silver can be wider than some brides think. Brides who prefer white, light cream or ecru dresses also may find silver bridal gowns Avant grade choices. Of course, some brides want to accent their silver dresses with a special color to make the gowns appear charming and impressive.
Silver wedding gowns are available in many different designs. For slimmer brides, it is suggested that they choose silver gowns as these dresses can make them look heavier than they are due to their shine.
Black Wedding Dresses
Some brides get fascinated with black wedding dresses even if these dresses are less popular and conventional than others. Black dresses look great on most brides as they can mask imperfections. These wedding gowns are also perfect choices if you are going to have a Halloween or Autumn wedding. Besides, by adding a flash of vibrant color like red, your black wedding dress will be very eye-catching and can make your groom and guests very impressed.
If you desire a black wedding gown, just throw your worries aside and find your dream gown. It is your wedding day and you deserve a beautiful dress you feel great with.
---
IV. How to Measure Your Wedding Dress
A wedding dress with the ideal size is crucial in enhancing your appeal. First, don't consider taking an exact measurement for your body to be difficult or time-consuming. You can ask a seamstress for help. Or just do this with your friend within minutes. Follow us and you will know how to accurately measure for your wedding dress below.
Part 1: Measure for Standard Wedding Dresses
Bust: Take the tape around your back and bring it across your nipple line, which typically refers to the fullest part of your breast. Remember to take the size of your bust, rather than your bra.
Waist: measure the part an inch above your belly button, which is the smallest part of your waist.
Hip: take the tape around the widest part of your hips. It' s 7 inches or so below your natural waistline.
Height: stand upright and keep your feet together. Let the tape across your bust in the front and drop naturally.
Length of Your Dress: take the tape from the top to the hemline of the gown you desire.
Part 2: Measure for Maternity Wedding Dresses
Upper Bust: measure the highest part of your chest directly under the arms. When you take this measurement, make sure your arms are relaxed, down at your sides, please.
Bust: Take the tape around your back and bring it across your nipple line (typically the fullest part of the breast). Remember that your bust size is not your bra size!
Under Bust: measure underneath the breasts (around the chest).
Around Belly: Measure around the fullest part of your belly. Make sure to keep the tape a little loose for comfort. Consider how long later you will wear the dress. This helps you to determine the right dress size as your belly is growing.
Hip: take the tape around the widest part of your hips. It' s 7 inches or so below your natural waistline.
Height: stand upright and keep your feet together. Let the tape across your bust in the front and drop naturally.
Length of Your Wedding Dress: take the tape from the top to the hemline of the gown you desire.
Learn more here: Maternity Wedding Dresses
Part 3: Measure for Your Bridal Jacket or Mini Wraps
Shoulder to shoulder: Stand upright and keep your arms relaxed, down at your side. Measure your shoulder width from the back.
Bust: Take the tape around your back and bring it across your nipple line (typically the fullest part of the breast). Remember that your bust size is not your bra size!
Arm Length: Take the tape from your shoulder point to the wrist.
Biceps: Measure around the widest part of your upper arm to get accurate sleeve sizes.
While taking the measurement, make sure your arms are always relaxed and down at your sides. To make sure your wedding dress will ideally flatter your body shape, it' s much wiser to send the dealer or tailor an exact measurement for your figure than to choose a regular size. Good luck to you.
---
We hope that our Wedding Dresses Guide will help you to make a better decision for your best wedding day. For more wedding tips 2023, check our Pinterest account: