Love is in the air! As the weather finally starts to cool down a little bit now that we're approaching autumn, more people have started to speed up their proposal plans. It seems like vacations are the spot and moment to propose this year, too, and right now is when a lot of folks have theirs planned.
All of these engagements mean that weddings need to be planned! Of course, this is something that is much easier said than done, and it can take a lot of time, effort, and money to pull one off successfully.
There has even been academic research on the topic, as you can see here: https://journals.sagepub.com/doi/abs/10.1177/0192513X07309453.
The fascinating thing is that many brides (since they tend to be the ones planning most weddings, though grooms can certainly have plenty of input as well) have an idea of what they want even when they are young. "Dream weddings" are a pretty popular phenomenon, and a lot of venues really try to cater to that idea.
Finding Your Dream Venue
With planning out a wedding, there are a lot of moving parts to take into consideration. From the cake to the guest list to the dress that the bride will be wearing, all of it can be stressful to keep track of.
Perhaps the most important bit, though, is to find the venue. After all, it's where you'll be hosting the wedding, and the reception depending on your vision!
Now, for the most part, your choice of venue will really depend on what aesthetic that you're aiming for with your plans. Some folks prefer the glitz and glamour of a country club or a beachfront, while others would like a garden wedding venue that comes with plenty of rustic charm. Obviously, it's up to you to decide what would work best for you.
For spring, summer, or autumn weddings, the nature-themed ones can be quite a fun experience. If the venue you're considering has a nice view of the nearby landscape, that's a bonus too!
Explore the options – many of them will also be able to provide you with a few options in the same general area if you fall in love with a location but not necessarily where you'd actually be exchanging vows.
Why is Location so Important?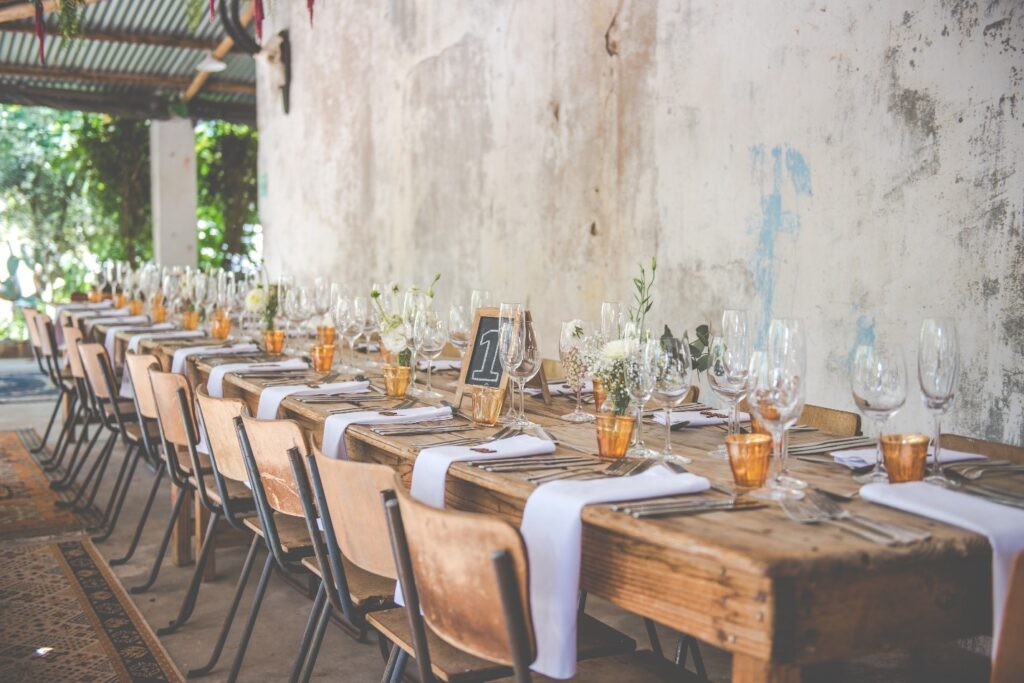 While you sort out your plans, you may still be wondering to yourself why this is all such a big deal, anyway.
Is there a specific reason why location is important for a wedding, besides the obvious of wanting a comfortable and beautiful atmosphere? Well, we're here to tell you that the answer to that is yes, and we'll explain that now.
For one thing, depending on where you live, you may or may not want to travel far to your venue. In that very practical sense, it's going to be a big deal – especially if your guests are from all across the country. There could be some logistical issues, there.
Additionally, though, it's also about creating a cohesive and enjoyable experience for you as the couple getting married as well as your guests. Pages like this one give some details on how to plan a "perfect" wedding, and while perfection may not necessarily be achievable, we can certainly aim to get as close to it as possible! Location is a huge part of that.
Something else to keep in mind here is that depending on where you host the wedding, the venue may also have a reception hall – or you may have to swap to a different spot for the reception afterward.
Decide early on how much travel you want to have to deal with there, since that can add a lot of stress.
Realistically speaking, a wedding is only one night of our lives. We'll make memories to cherish, and it's important to most of us that we have a beautiful experience. The venue will even impact our pictures, so again – you can see how big of a deal it can really turn out to be.
Whether you're looking for lilacs in a rustic garden or something else, we hope that you can find what you're looking for out of your chosen venue.