Do you want to surprise your friend with a bridal shower present, since you just found out she got engaged?
If you're wondering what to get her, a bridal shower subscription box is a thoughtful and advantageous option that will help her unwind as her big day approaches and keep her bridal shower, and by extension, her wedding, well planned.
We have done some research and found that Mrs.AtLast is the wedding subscription box that offers the best overall value and has the most thoughtfully curated present list.
What are Bridal Shower Gift Box Subscriptions?
These are comfort packages for the bride-to-be, sent out on a weekly or monthly basis and filled with high-quality items relevant to the wedding.
This is a wonderful way to strengthen your connection with the bride as you shower her with thoughtful gifts over the course of time. In addition to cosmetics, they provide a whole spa, loungewear, decor, etc., package.
An In-Depth Look into the Bridal Shower Gift Box from Mrs.AtLast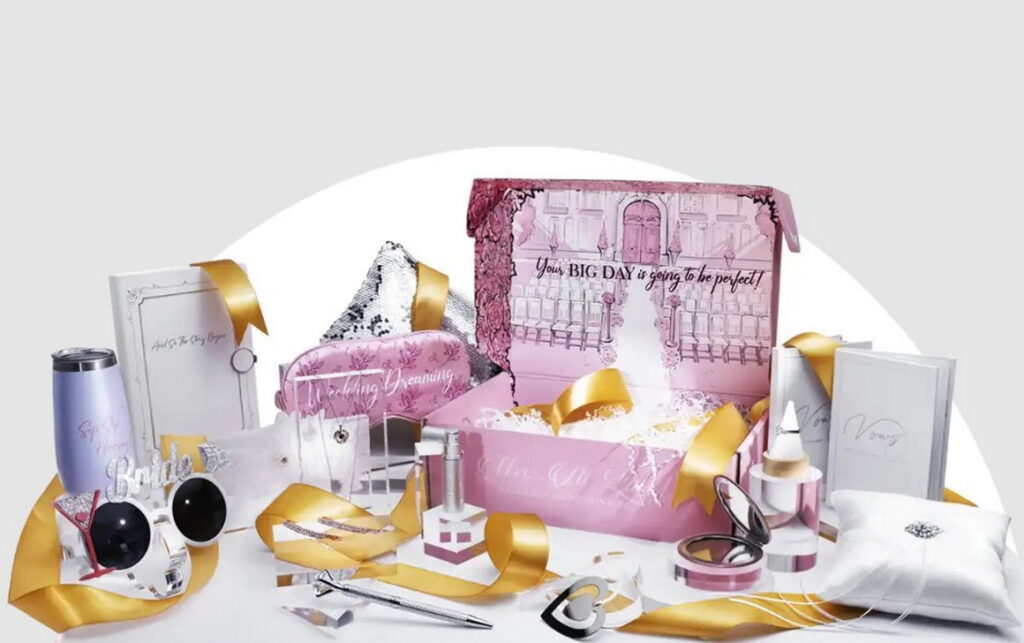 With MrsAtLast's bridal subscription boxes, you may bring a smile to your newlywed friend's face and make her day. Each of the six themed boxes includes a carefully curated collection of items meant to maximize the experience.
Their high-end Bridal shower gift box is offered at a price of $38 per box with a retail value of +$100 and free shipping availability. Give your bride friend the gift of opulence with this bridal shower gift box subscription with high-value items.
Why Choose Mrs.AtLast Bridal Shower Gift Box?
It is a unique way to surprise your friend for her bridal shower to help her pamper and prep for the big day. They pick out each item to suit the theme of the box.
This package is one-of-a-kind and outstanding since it contains useful items like a multipurpose veil, skincare basics, a wedding calendar, a jewelry bag, etc. Mrs.AtLast's service has established a reputation over the years as one of the most dependable and in-demand in the industry.
For the bride-to-be's bachelorette party and the big day itself, they provide personalized gift boxes filled with essentials. You can also get the Bride-To-Be Bundle savings when you subscribe to a minimum of three boxes at once.
Those are the kinds of products and services provided by experts who care about giving your bride friend the best possible wedding they can. The platform has a simple 3-step ordering and payment process without asking for lengthy details.
This box and service come with a few advantages, which are elaborated on below.
Facilitated Return Process
Owing to the no-hassle return policy, you can begin relishing the high-quality items this box offers right now without worrying about losing any money. Helping you make memories that will last a lifetime is their top priority.
Customized Shipping and Handling
With this service, it's simple to alleviate your friend's bridal shower experience. If you tell the company when the wedding is, they may plan their shipping accordingly. This guarantees that the bride will get her wedding-themed monthly box right up to the big day.
Entering the wedding date will allow the site to provide suggestions for relevant gifts. Simply choose how often you'd want to be showered with gifts. Simply provide the firm with the shipping address and they will handle the rest.
Conclusion
Gifting a bride-to-be a bridal shower subscription box is a thoughtful way to celebrate this once-in-a-lifetime event. The Mrs. At Last subscription box was designed to feature just the most ideal bridal accessories.
We hope that this guide will equip you with every detail you need to choose the best bridal subscription box for your bride-friend.